Your Zoom status can be used by friends, family, and co-workers to see whether you're available to take part in meetings or respond to messages. The status settings themselves are reasonable, in that it lets you broadcast if you're free, busy, offline, or have stepped away from the computer for a bit. This information can let others know if they can expect a response soon, or if they should talk to someone else if an issue is urgent.
Tip: Your status is shown as a small, coloured dot the corner of your profile picture.
The issue, however, is automatic status changes, specifically the automatic "Away" status change. By default, if your computer is inactive for fifteen minutes then your status is automatically set to "Away", it is then changed back to "Available" when you interact with your computer again. This can feel like an invasion of your privacy as it informs others that you're not at your computer, even if you don't want this to be known and it can lead to people asking what you were doing when you may not want to share.
Thankfully, for those users that don't particularly like this feature, Zoom allows you to configure the time period that it waits before marking you as away. Zoom also allows you to disable the feature outright, preventing it from ever automatically setting your status to away.
How to disable the automatic "Away" status
To disable the auto-away feature, you need to go into the settings. To access the settings, click on your user icon in the top-right corner, then click on "Settings".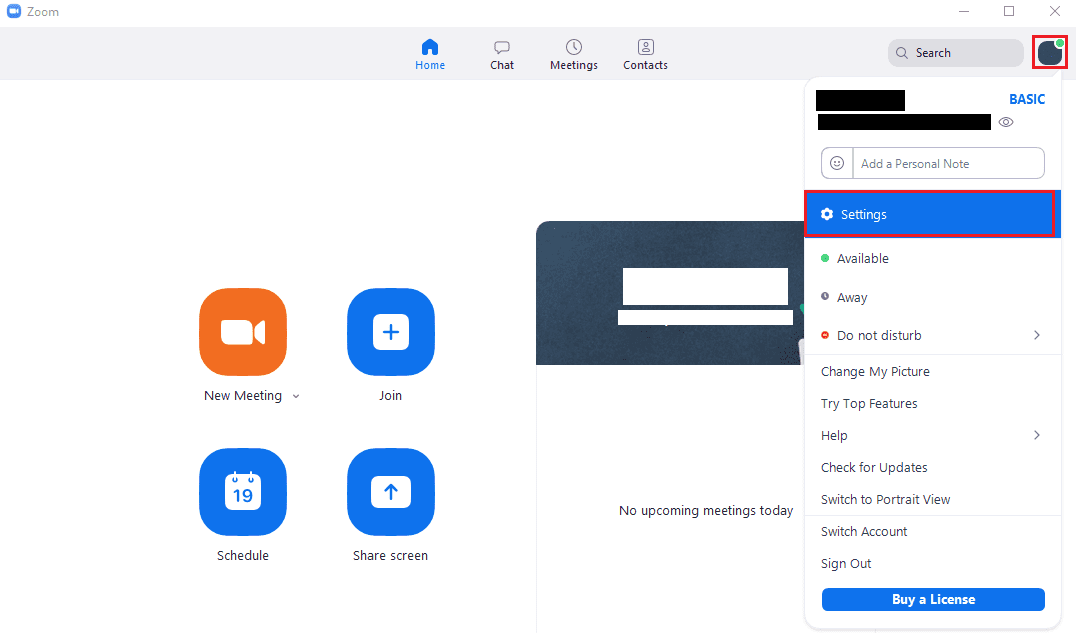 Once you're in the settings, you need to switch to the "Chat" tab. To prevent yourself from being automatically marked as "Away", untick the checkbox labelled 'Change my status to "Away" when I am inactive for [x] minutes'. If you just want to adjust the time that needs to pass before you are automatically marked as "Away". Use the dropdown box "[x]" in the option title, to select a new time period. You can select a time period of two, five, fifteen, thirty, and sixty minutes.
Tip: You can also manually specify a custom time period by typing in the dropdown box. You can only enter one- or two-digit numbers, but any combination of digits works. To verify that your custom number has applied, switch to a different setting tab then come back, if the number is still your custom value, then it saved correctly.