The Photos app is a decent photo viewer and photo management app. If you import images from a variety of different folders, it's possible that you'll end up with a duplicated photo at some point.
By default, Photos automatically recognizes when two photos are identical and groups them into a single entry. Some people might appreciate this, as it can help reduce clutter. However, others may not like that their image library is being automatically managed. Alternatively, they may want to see the duplicates so they can edit them in different ways. This guide will walk you through the process of disabling linked duplicates in the Photos app.
The first step is to open the Photos app. To do so, press the Windows key, type "Photos" and hit enter. Next, you want to open the settings by clicking the ellipsis icon in the top-right corner and selecting "Settings" from the drop-down menu.
The linked duplicates setting is located at the top of the "Viewing and editing" section of the settings. Click the slider labelled "Linked duplicates", so that it appears in the "Off" position. The setting will be instantly disabled and doesn't require any further confirmation.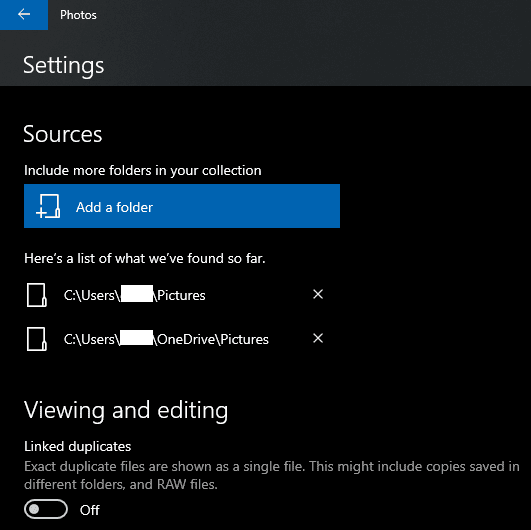 Once you've disabled the setting you can back out of the settings, by clicking the arrow in the top-left corner of the window.