The Quick access shortcuts in File Explorer are a useful way to easily access your favourite and most commonly used folders. By default, a number of libraries are pinned, including your Documents and Photos folders. Your most commonly used folders also appear in Quick access. This guide will cover how to turn off all frequently used folders from appearing in Quick access in Windows 10.
Tip: You can manually remove individual folders by right-clicking on them and then clicking "Unpin from Quick access" or "Remove from Quick access". 
Quick Access is accessible in the Navigation pane on the left of File Explorer. File Explorer's options can be configured by clicking the "Options" button, located on the far right of the "View" tab in File Explorer. Alternatively, you can press the Windows key, type "File Explorer Options" and hit enter.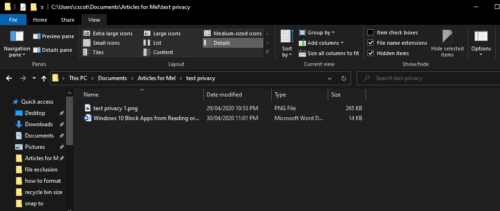 Inside the Folder options window, the third box of the General tab controls the privacy settings for Quick access. Untick "Show frequently used folders in Quick access" and then click "Apply" or "OK" to save the change.
If you want to also stop Quick access from showing recently used files you can untick "Show recently used files in Quick access" too. If you do this it's recommended that you click the "Clear" button to delete the recently used file and folder data – otherwise they may show up for a bit longer. Once again, click "OK" or "Apply" to save the changes.