Signal is becoming more and more popular among messaging app users thanks to the privacy features it sports. But its popularity also brought a series of unexpected glitches and issues to the spotlight. For example, Signal may sometimes fail to retrieve your contacts. When you hit the "Show contacts" option, the app may throw an error message saying there's been a problem retrieving your contacts. As a result, you can't message anyone. Let's explore how you can quickly fix this glitch on Android.
How to Fix Signal App Error Retrieving Contacts
Try Again Later
The Signal app is slow to display your contacts because so many people are trying to join the platform. Wait for two or three minutes and try to reaccess your list of contacts. Check Signal's official Twitter account for any news about known issues and bugs.
Check Permission to Access Contacts
First of all, make sure Signal is allowed to access your contacts. Then, go to Android settings and ensure contact syncing is on.
Navigate to Android Settings, and tap Privacy.
Go to Permission Manager and select Contacts.
Check which of your apps can access your list of contacts. Make sure Signal is on the list.
Go back to Settings, and select Accounts.
Tap Signal, and go to Accounts Sync.
Make sure contact syncing is enabled.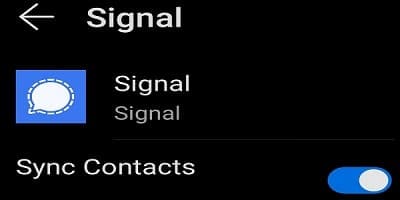 Try revoking Signal's authorization to access your contacts. Wait for thirty seconds, and then re-authorize the app to access your list of contacts.
Check for App and Device Updates
If you're running an outdated Signal app version, certain features and functionalities may not be available.
Open the Google Play Store app, and type in "Signal" in the search field.
Hit the Update button next to the Signal app to install the latest app version.
Then go to Android Settings, tap System Update, and check for updates.
Restart your device after installing the latest Signal app and Android OS updates.
Clear the Cache
Try clearing the app cache and check if this solution solves the problem.
Go to Settings, tap Apps, go to All Apps, and select Signal.
Then select Storage and hit the Clear cache button.
Relaunch the app and check the results.
Reinstall Signal
If the issue persists and Signal is still unable to retrieve your contacts, uninstall the app. Restart your terminal, launch the Google Play Store app and reinstall Signal.
Conclusion
If Signal can't retrieve your contacts, check your Android privacy settings, and make sure the app can access your contacts. Then install the latest Signal and Android updates. If the issue persists, clear the cache and reinstall Signal. Did these solutions help you troubleshoot the problem? Let us know in the comments below.