Images are a great way to share on the internet and animated GIFs are just that bit better. The animations allow you to show a more complex scene, such as a reaction or something happening. Browsers support displaying GIFs by default, so they work on most websites where you can share images.
There are a lot of sites that have a collection of GIFs already uploaded but sometimes you just want to make your own. Here's our selection of the top five best ways to upload and share GIFs.
Giphy
Giphy is one of the biggest GIF collections, making it a good place to look to find the one you want. Giphy also has a solid toolset for uploading your own GIFs. If you have a GIF on your computer, you can upload it directly. In fact, it will also take many other animated file types such as mp4, avi, webm, and mov.
Alternatively, you can provide a link to a GIF or video and Giphy will convert it. You can select which portion of the video is used and add custom captions to it. The only downside to using Giphy is that you need to be signed in to upload a GIF.
---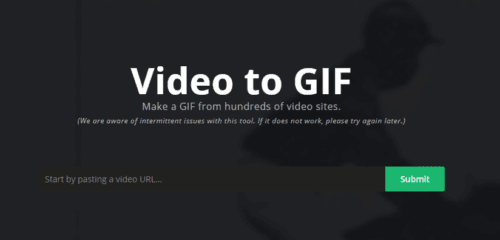 ---
Imgur
Imgur is one of the most well-known images sharing sites on the internet. It's not dedicated to GIFs, but it very much supports them. You can upload GIFs or other animated files from your hard drive, although it doesn't support as many animated file types as Giphy. You can also import GIFs from the internet and generate GIFs from videos. No account is needed to upload a GIF.
---
Tenor
Tenor is primarily an animated GIF site, however, it's possible to upload still images as well. There are only three supported animated file types, but you can either upload them from your hard drive or link to them from elsewhere on the internet. One thing you can't do is import a video form the web. Once you've uploaded a GIF, you need to add at least one tag to it before you can publish it but you don't need an account to upload GIFs to Tenor.
---
Imgflip
Imgflip supports any GIF upload method you can think of, from your hard drive, from the web, from videos, and even from a set of still images. It allows a lot of customisation, including the framerate of the GIF. An account is not necessary, but all GIFs include a small watermark unless you pay $9.95 a month for the pro version.
---
Recordit
Recordit, is a downloadable software tool that allows you to record GIFs from your desktop. It's similar to taking a screenshot, select an area of the screen, and click record to make a GIF. Once you've stopped the recording, you can click the popup in the bottom-right corner of your screen to open your GIF. This can be particularly useful for making a GIF of something on your computer such as a walkthrough. One thing to be aware of is that the framerate is relatively low. You don't need an account but you will need to install the software to use Recordit.