The new tab page is probably one of the pages that you see the most in a web browser. Every time you want to open a new tab, you'll see it. You could leave Chrome with its default blank background, or you could choose to customise it, if you want it to look a little cooler.
By default, Chrome lets you customise your new tab page through colour schemes and background images. There are some odd limitations placed on the type of backgrounds you're allowed though. For example, not only can you not set a video background, but you can't even select an animated one. Neither animated nor static gifs are officially supported, but it is possible to make it work. If you rename the gif that you want to use as a background so that the file ends in ".gif.png", you can import it as a custom background image and Chrome will then play the gif normally.
Unfortunately, the same trick doesn't work with videos. There aren't really many options for setting a video background. One option that does work is to use a Chrome extension. The extension "Chrome Theme Infinity New Tab Backgrounds HD" which can be found on the Chrome Web Store here, includes a number of video backgrounds. Each background video is a short MP4 video of a landscape, with credits and locations listed in the bottom-right corner.
As of the current version (1.3.7) in November 2020, Nature Wallpapers HD video New Tab background doesn't support adding custom videos. The developer has said, however, that the feature is being worked on as a future premium feature.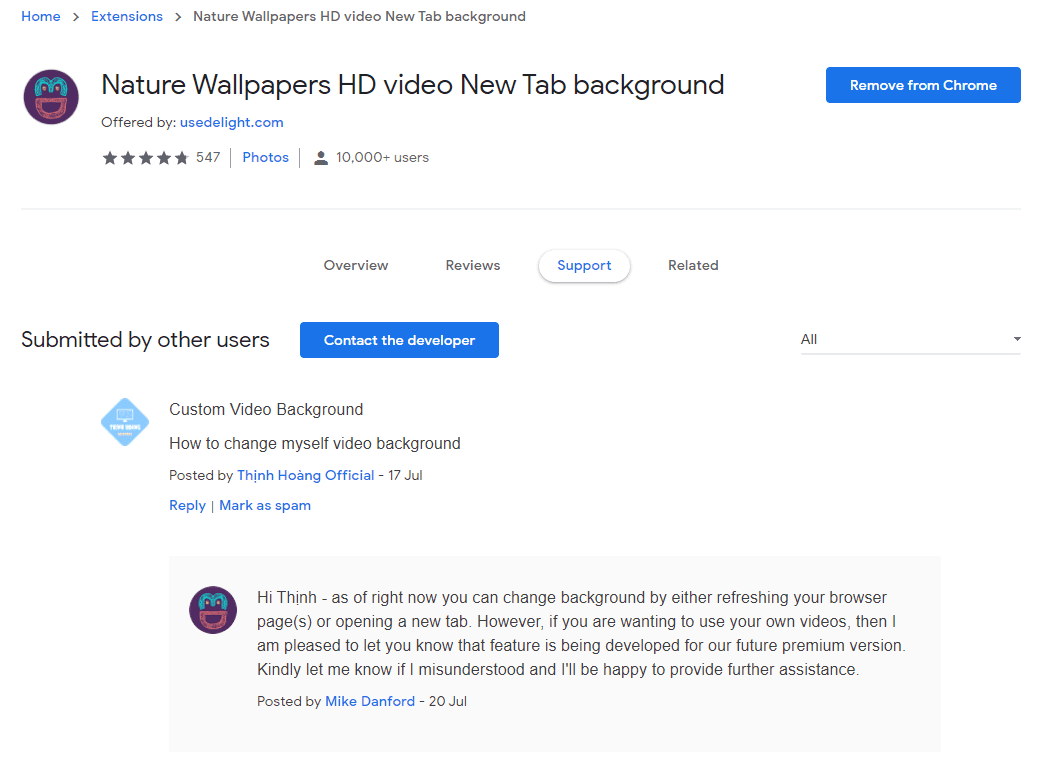 While most of the video backgrounds are streamed from the internet when the new tab page opens, five videos actually get saved to your hard drive when the extension is installed. The five videos are saved to the directory "C:\Users\[your_user]\AppData\Local\Google\Chrome\User Data\Default\Extensions\hehbgjdnbibkndghdlilefececadokpb\1.3.6_0\assets\videos". While we did see some of these videos played in our testing, we were unable to get Infinity New Tab Backgrounds HD to load a custom MP4 video from this directory, although your experience may vary.