Clips are a Twitch feature that allows you and your viewers to save a specific portion of a stream as a separate video that can be easily shared as a highlight. Clips are also saved forever and don't expire after the full stream is no longer available to view.  Often clips are intended to highlight epic, cool, or funny moments, but they also tend to be used to "highlight" misplays, mistakes, and other less glamourous moments.
While generally these types of lowlights can be taken in good fun, if too many clips are negative it can become demotivating and can even become harassing. Even this isn't an issue that affects you, you may want to restrict the ability to create clips for your long-term fans or want complete creative control over the highlights presented from your channel.
If you want to restrict who has the ability to create clips of your stream, you can do so through the creator dashboard. To open the dashboard, click on your profile picture in the top-right corner, then click on "Creator Dashboard".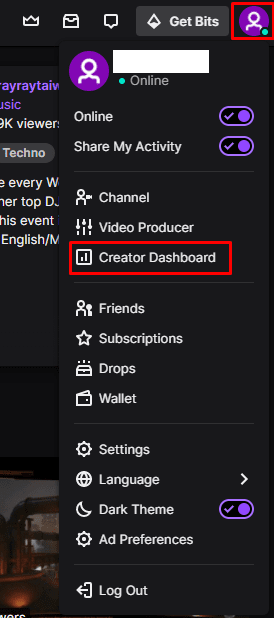 Once in the creator dashboard, expand the "Preferences" category in the left column, then click on "Channel". The clip settings can be found in the "Stream Key & Preferences" section. "Enable clips" allows you to toggle the ability to create clips from your stream and past broadcasts.
"Followers-only", allows you to prevent users who don't follow your account, or haven't followed it for a certain amount of time, from creating clips. Setting it to "Off" allows users that don't follow you to create clips and "Any followers" allows anyone who is following your channel to create clips. The timed options prevent anyone who has been following your account for less than the set time from creating clips from your content.
The "Subscriber-only" slider allows you to prevent anyone who hasn't subscribed to your channel from creating clips.