Signal may sometimes crash to a black screen and throw a strange error that says, "The operation could not be completed." This is actually a general error that pops on the screen when a certain process gets stuck. For example, if the Camera app gets stuck while you're trying to take a photo on Signal, you may get this exact error. Let's discuss what you can do to fix the problem.
What to Do If Signal Could Not Complete the Operation
Restart Your Phone and Update the OS
Maybe something happened with the OS itself. The quickest way to fix OS-related issues is to restart your terminal. Do that a couple of times just to be sure. Then, go to Settings, select System, and tap System Update. Check for updates and install the latest Android version available for your device.
Update Signal
After updating the OS, check if there's a newer app version available as well. Launch the Google Play Store app, search for Signal, and tap the Update button next to the app. Check if you're still getting the same error message.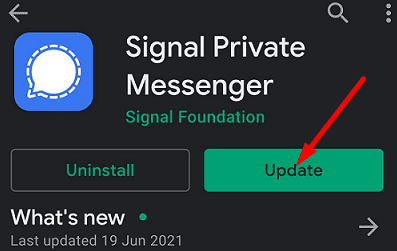 Clear the Cache
If the issue persists, get rid of the app cache and check the results. Go to Settings, tap Apps, and go to All Apps. Select Signal, and tap Storage. Hit the Clear cache button to delete the cache.
Check your storage space as well, and ensure you've got at least a few gigabytes of free space available.
Reinstall the App
Well, if nothing's working, uninstall Signal. Restart your terminal, launch the Play Store app, and install Signal again. Additionally, go to Settings, tap Storage, and select Clean junk files.
Conclusion
If Signal crashes and throws an error that says the app failed to complete the operation, restart your phone. If the issue persists, check for Android updates, and update Signal as well. Additionally, clear the app cache, remove junk files, and reinstall Signal.