If you're unable to add new channels to Roku TV, and you're looking for a solution to fix this issue, you've come to the right place. In this guide, we'll show you how you can quickly solve this problem.
Why Can't I Add Channels to Roku?
1. Check if the channel is geo-restricted
It could be that the channel you're trying to add is geo-restricted. Channels such as YouTube and Netflix are available worldwide, but others may not be available in your region. If the channel providers do not offer access to their channels in the region you're currently located, try reaching out to them to inquire further about the channel availability in your area.
2. Disable your VPN
Many users who want to bypass geo-restrictions, use a VPN tool to hide their real IP address. Keep in mind that VPNs may sometimes slow down your connection which leads to buffering issues. But that's not the only problem. If you're using a VPN, Roku flags that as an attempt to get around geo restrictions. As a result, certain features may become unavailable.
Disable your VPN, refresh your current location by reselecting your location and try again.
3. Clear the cache
As you continue to use Roku, temporary files get stored on your devices as cache files and cookies. They may sometimes prevent you from adding new channels to your list.
If you noticed certain apps or channels are not working as they should, clear the cache. These problematic apps or channels might be preventing you from adding new channels.
Go to the Homescreen
Select the app or channel that's been giving you headaches
Remove the problematic app or channel (press the asterisk button on your remote and select the Remove channel option)
Restart Roku to clear the cache
Reinstall the app or channel you just deleted from the Roku Channel Store
Sign back in and check if the issue is gone.
4. Delete other channels
If you've got a long list of channels saved on your account, go to your Roku Home screen and try removing any unused channels.
Select the channels you haven't used for a while and hit the Remove channel button.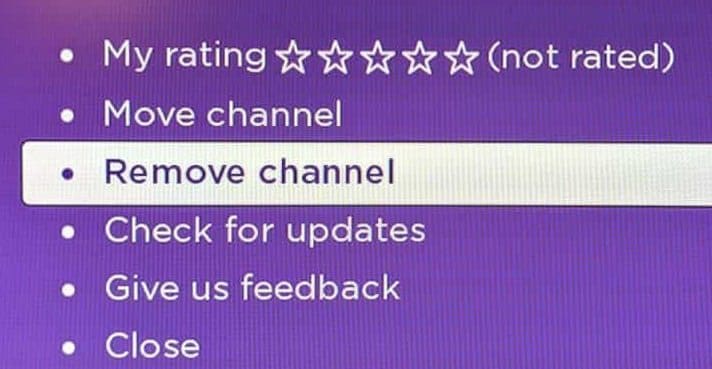 Restart your device and check if that resolves your problem.
5. Create a new account
Other users managed to fix this problem by creating a new account. If your current user profile got corrupted, try creating a new account.
You can create your account on https://my.roku.com/signup.
You can then link your Roku TV to your new account and try adding new channels again.
6. Reset your Roku device
By performing a factory reset on your Roku device, you will remove all your settings and preferences, and unlink your Roku device from your Roku account.
Method 1
Go to your Roku Home screen
On your remote control, press the following buttons:

Press Home five times and then press the Up button
Press Rewind two times and then Fast Forward two times

Wait one minute for Roku to complete the reset process and then restart the device.
Method 2
You can simply press the Reset button located on the back of your device to reset it.
Contact Support
If you followed all the steps listed in this guide but you still can't add any channels, contact Roku support.
Use your Roku email address, and include your Roku device serial number in the message. You can get it from Settings → System → About.
There you have six solutions you can use to troubleshoot the problem where Roku fails to add new channels to your list. Let us know if you managed to fix the problem in the comments below.