Synology DiskStation DS1520+ 5-Bay Diskless NAS
AMD Ryzen Threadripper PRO 5995WX
NVIDIA Quadro RTX A6000 48GB GDDR6 Graphics Card
Time is money, so when you're working, you want to do so efficiently. One of the core things about getting your work done sooner is identifying where holdups and bottlenecks are slowing you down. Sometimes these will be unavoidable, like meetings. Still, some issues can be solved. With the best tech, you can maximize your productivity at work.
To help you find some of the best productivity tech out there, we've drawn up our list of the best high-spec productivity tech for the office in 2022.
LG 32UN500-W 32-inch 4K Monitor
Key Features
HDR10 support
Minimal bezels
VESA 100mm mount
Specifications
4K
90% DCI-P3 coverage
32-inch screen
The LG 32UN500-W 32-inch 4K Monitor is a large, high-resolution monitor that lets you display large amounts of content simultaneously. The 4K resolution is excellent at this size because it doesn't need any scaling to leave anything readable. It has been designed to support HDR10 and has a 90% coverage of the DCI-P3 coverage. Which can be helpful for light graphic design work.
The screen has minimal bezels, ideal for placing multiple monitors side by side. It comes with an HDMI and DP cable, so you can connect it straight away. The included stand isn't great, the base takes up a lot of space inefficiently, and it only offers tilt adjustment. Thankfully, the monitor has a 100mm VESA connector at the back, so you can mount it separately if that's an issue. At 16.9 pounds, it's also not too heavy to be mounted on desk edge clamps.
Pros
Comes with HDMI and DP cable
Relatively light at 16.9 pounds
Cons
Included stand only tilts
Stand does not use space well
Synology DiskStation DS1520+ 5-Bay Diskless NAS
Key Features
Dual M.2 2280 SSD slots for I/O caching
Two USB 3.0 ports
4 Gigabit ethernet ports
Specifications
5-bay NAS
8GB RAM
4 core CPU
The Synology DiskStation DS1520+ 5-Bay Diskless NAS offers 5 drive bays for up to 80TB of internal storage with 16TB drives. Suppose your workload needs a lot of storage. In that case, a NAS is a great option, especially if multiple people need access to the same data. Of course, a NAS is typically configured in some sort of RAID array to offer increased performance or redundancy. Alongside the 5 standard drive bays, two M.2 slots can be populated with SSDs for I/O caching, though you would need both M.2 slots filled with caching both reads and writes.
Connectivity-wise, four gigabit-ethernet ports support link aggregation and failover, so you can choose how much performance or redundancy you want. There are also two USB 3.0 ports, each with a peak theoretical bandwidth of 4.8Gbs. It supports being connected with up to two 5-bay expansions for up to 15 drives of storage. While setup can be simple, there are plenty of options if you dive deep.
It's essential to be careful about exposing it to the internet as that could result in your data being ransomed. It is important to note that this model, like many NAS, does not come with storage drives. You will need to purchase those separately. While this is a high extra cost, it does also mean that you can choose the exact drives you want for your use case. Be that a set of 16TB HDDs, some smaller SSDs, or a combination of the two.
Pros
It can be expanded up to 15 drives
Support for link aggregation
Up to 80TB internal capacity
Cons
No drives included
Can be complex to fully setup
AMD Ryzen Threadripper PRO 5995WX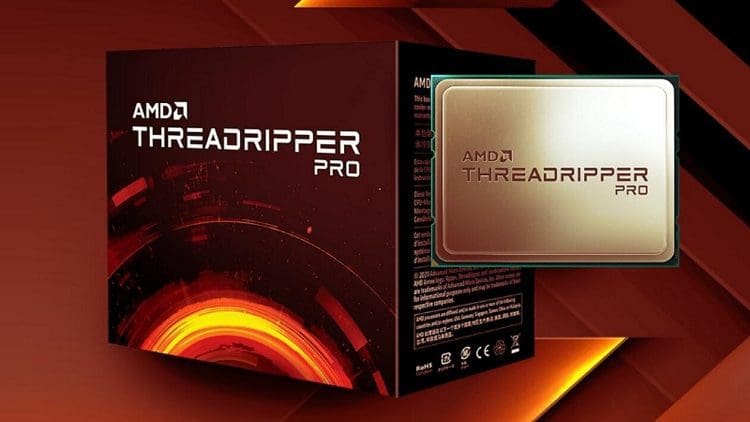 Key Features
8 ECC memory channels
Zen3 cores
7GHz base clock
Specifications
64 cores
128 threads
5GHz boost clock
The AMD Ryzen Threadripper PRO 5995WX is the ultimate workstation CPU, or at least it will be when it releases on 3/8/2022. If your workload is CPU limited and benefits from core scaling, this CPU will net you the best performance available. AMD's flagship 64 core 128 thread Threadripper is unchallenged in the market. While AMD also offers EPYC server CPUs with the exact core count, those are even more expensive. The latest generation uses the excellent Zen3 core architecture and has a base clock of 2.7GHz and a boost clock of 4.5GHz.
It offers 8 memory channels for 3200Mhz DDR4 RAM with ECC support and 128PCIe 4.0 lanes for all the high-speed connectivity you could want. The price is not yet known as the product is still pre-release as of writing. However, it will be expensive. Likely around the $7000 mark, if it follows the pricing for previous models. Shortly after it was announced this year, a benchmark score in the Pass Mark program was released. Showing it clearly topping the chart and scoring 27% higher than the previous generation.
Pros
4MB/32MB/256MB of L1/L2/L3 cache
27% performance boost over previous flagship Threadripper
128 PCIe 4.0 lanes
Cons
Not yet released
Pricing unavailable but it's going to be expensive
NVIDIA Quadro RTX A6000 48GB GDDR6 Graphics Card
Key Features
71 TFLOPS of FP32 performance
48GB of GDDR6 VRAM
384-bit memory bus
Specifications
10752 cores
1410MHz base clock
1800MHz boost clock
The NVIDIA Quadro RTX A6000 48GB GDDR6 Graphics Card is the top-end GPU of its generation featuring the full GPU die with no disabled sectors. If your workload can be enhanced with graphics processing, this is the card for you. Doubly so if your workload has high memory requirements. It features 10752 cores running at up to 1800MHz. There are also 48GB of GDDR6 VRAM on a 384-bit memory bus for fast access to a lot of memory.
There are 336 tensor cores and 84 ray-tracing cores for specific hardware acceleration in machine learning and ray tracing workloads. It offers 38.71 TFLOPS of FP32 or FP16 performance and 1.2 TFLOPS of FP64 performance. The NVLink connector enables you to connect two of these dual-slot cards side by side in the same machine for even more performance and memory. The blower-style cooler works even in systems with suboptimal airflow but is generally quite loud. Finally, with Nvidia releasing a new GPU architecture later this year, this is likely to be refreshed shortly, almost certainly with higher performance.
Pros
16000MHz memory speed
336 tenser cores
84 ray tracing cores
NVLink connector for dual card support
Cons
Cooler is loud
Likely to be refreshed later this year
That was our roundup of the best high-spec productivity tech for the office in 2022. Have you recently bought some high-spec productivity tech for the office? What sold you on it, and what has your experience been with it so far? Let us know down below.