Celestron Cheap Travel Telescope Kit
Celestron PowerSeeker 127EQ Telescope
Gskyer AZ90600 Budget Telescope Kit -
Telescopes can be a fun way to learn about space and to enjoy the distant beauty of the solar system. For some, a telescope and the fascination it can ignite with the night sky can lead to a lifelong interest, hobby, or even a STEM career. There are a broad range of telescopes available with many useful features such as automatic countering of the Earth's rotation.
With budget models, there are three main concerns, aperture size, magnification, and stability. The aperture size – which is the size of the main mirror or lens, depending on the type of telescope – determines how much light the telescope captures. For this, bigger is always better, allowing you to see fainter objects. Magnification is controlled by the lenses used and determines how big very distant things look. Many telescopes will come with multiple lenses to allow you to choose what zoom level is appropriate. More is generally better, but when you get too high it's important to note that the rotation of the earth will start having an effect with items drifting out of view quickly. Stability is the final key point, while it's not so much of an issue for other price points, budget models often skimp on the quality of the stand or tripod. This can lead to wobbling at the slightest of nudges or an inability to hold the set direction.
When talking about telescopes we'd be remiss not to mention anything about safety. While it may sound silly, it is possible to hurt yourself with a telescope. Many models – especially older ones – can be heavy and bulky making them very awkward to move, make sure to lift them properly. Finally, you need to be careful not to look at anything too bright, thankfully there are only two things in the sky you need to be careful about, the Sun and the Moon. The Sun is obvious, if you shouldn't look at it directly, you certainly shouldn't use a telescope to funnel more of its light into your eyes. The Moon may be less obvious, nevertheless, the full Moon can be very bright, combined with a large enough telescope it can cause temporary or even permanent eye damage. While your health is the most important in this regard, it's also worth pointing out you can also damage cameras and even the telescope lenses this way too.
Gskyer AZ90600 Budget Telescope Kit
Key Features
600mm length
Included smartphone mount
No configuration necessary
Specifications
Aperture size: 90mm
Lenses included: 24x, 60x, 120x, and a Barlow 3x lens
Telescope style: Refractor
The Gskyer AZ90600 Budget telescope kit is a 60cm refractor telescope with a 90mm aperture.  This size makes it great for lunar observations and can be used to spot the planets, but is not capable of producing crystal clear planetary photos. It comes with three lenses and a Barlow lens which can be combined with any of the other lenses to triple their magnification.
The telescope is relatively light, making it easy to reposition if needed. While construction is needed out of the box, you don't need to adjust any settings, you can just attach a lens and point it at the sky. The included smartphone mount makes it easier to take photos through the telescope with your phone. The angle of the telescope is adjusted with a singular holding arm, this mechanism is simple to use but less precise and more prone to slippage than a dual-axis equatorial mount.
Pros
Reasonably priced
Great for Moon observations
Relatively light
Cons
The telescope has just one movement mechanic
The tripod can be wobbly
The direction holding is poor
Orion StarBlast Reflector Telescope
Key Features
Borosilicate glass mirror
Comes pre-assembled
Includes a finder scope
Specifications
Aperture size: 114mm
Lenses included: 26x and 75x
Telescope style: Reflector
The Orion StarBlast Reflector Telescope is a cheap entry-level reflector telescope. It has a large main mirror aperture but only comes with two lenses. For an improved experience, we recommend that you purchase more lenses, ideally including one Barlow lens. It comes preassembled but will need to be collimated like all reflector telescopes.
The borosilicate glass mirror has a low thermal expansion ratio, so you don't need to worry about leaving it to acclimate to the outdoor temperature after being stored indoors before use. The included tabletop base may be useful depending on your use case but requires a flat and stable surface on which to place it, making it less versatile than a tripod or other traditional mount.
Pros
Compact
Relatively light
Well priced
Cons
Poor range of included lenses
Comes with a table-top base
Celestron Cheap Travel Telescope Kit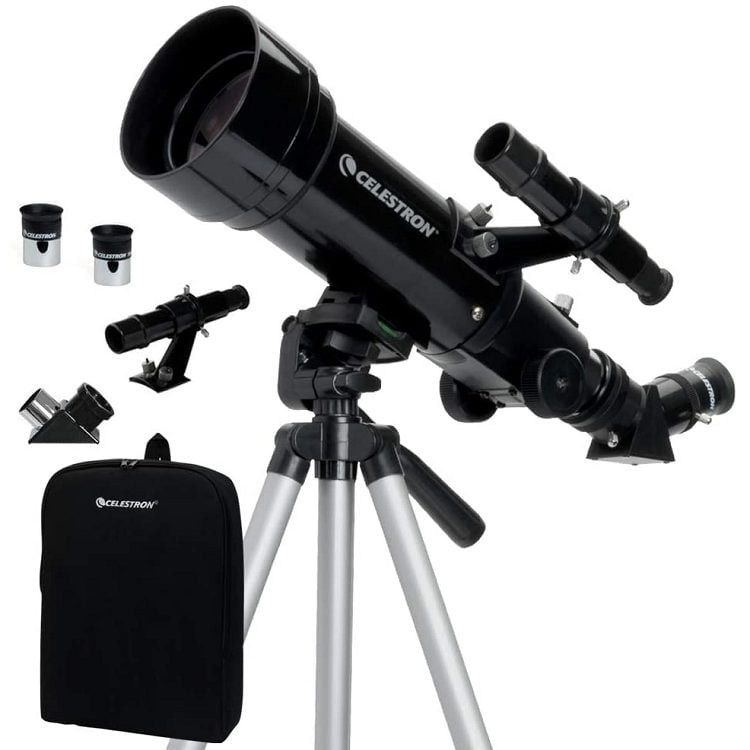 Key Features
Super light weight
Portable
Comes with travel backpack
Specifications
Aperture size: 70mm
Lenses included: 20x and 40x
Telescope style: Refractor
The Celestron Cheap Travel Telescope Kit offers a great option if you want to take a telescope on night walks or don't want to deal with long setup times. It's suitable for lunar views and catching glimpses of the planets but lacks the magnification to resolve them properly.
The included travel backpack makes it super easy to take along when going out at night. It may be too large if you're also having to carry camping gear though. The telescope is attached to the tripod with thumbscrews, so no tools are needed. It's also incredibly reasonably priced. Unfortunately, the included tripod is weak at best, and should only be used if you don't have an alternative and even then, should be kept at its shortest height to minimise wobbling.
Pros
Great for taking out into the countryside
Incredible price
Toolless set up
Cons
The lenses have a relatively weak magnification
The included tripod is flimsy, especially when extended
Can't really make out the planets well
Celestron PowerSeeker 127EQ Telescope
Key Features
Equatorial mount
Comes with a free astronomy software package
Included 2-year support package
Specifications
Aperture size: 127mm
Lenses included: 50x, 250x, and a Barlow 3x lens
Telescope style: Reflector
The Celestron PowerSeeker 127EQ Telescope uses an equatorial mount unlike the rest of the telescopes on this list. This means that it has two fine aiming knobs rather than a single manual handle to target the telescope. This style makes it significantly easier to track objects as the Earth rotates and holds in place better, however, it is slightly less intuitive to use.
The large primary mirror aperture means a lot of light gets in. great for seeing faint details in nebulae or planets. The main downside of the equatorial mount is the requirement for counterbalancing weights, meaning this telescope is quite heavy. Unfortunately, like all the other items in this list, the tripod isn't the sturdiest. This is a hazard of the budget class; it should be possible to order a sturdier replacement online however.
Pros
Dual axis fine aiming knobs
Long focal length
Large aperture
Cons
Fairly heavy
Included tripod isn't particularly sturdy
Requires collimation
That was our roundup of the best budget telescopes in 2021. Have you recently bought a budget telescope, let us know your experience and the coolest thing you've seen so far down below.