Nikko Air Drl Race Vision 220 Fpv Pro
RYZE TELLO
Syma X20 Mini Drone
Drones are really cool and can vary from being a toy, to a professional camera mount, to a racing vehicle. Of course, if you're just getting started with flying drones, or wanting to let your kids take the controls, then you may well want to start with a cheap budget drone. It's one thing to spend a few hundred or even a few thousand dollars on a drone you know you're going to use (and not break). It's a bit of a risk to have that be your first experience though, or to let small kids fly it. A budget drone is a perfect starting point, both on price and safety. They often come with propeller guards, that help protect walls and limbs that happen to be in the way.
To help you pick a good starting point, we've drawn up a list of the best budget drones in 2021.
Key Features
720p Video
5MP Photos
Flight time of 13 minutes
Specifications
Top speed: 8m/s
Maximum range: 100m
Weight: 80g
It shouldn't be surprising that the best drone on the list is the most expensive, this is almost always the case with budget tier tech. The Ryze Tello costs $100 but comes with a solid feature set that other drones in the price category just can't compete with. You can program the drone with routes and stunts, you can stream 720p video to your phone, and you can switch between a more and a less responsive flight mode.
While there are drone cameras with much better resolution, 720p is often what you'll see in budget-class drones. The 87g weight is extremely light, making it very portable, but vulnerable to even light wind. The altitude positioning system is maintained with an infrared sensor that is extremely effective at its task, when within its altitude limit of 10m.
Pros
Maintains position accurately at up to 10 metre altitudes
Great image stabilisation
Can be programmed
Cons
Easily affected by even light wind
Only 720p
Nikko Air Drl Race Vision 220 FPV Pro
Key Features
3 flight modes
High speed
Durable construction
Specifications
Top speed: 25m/s
Maximum range: 50m
Weight: 160g
The Nikko Air DRL Race Vision 220 FPV Pro is a cheap racing drone. It has three flight modes aimed at making it flyable by pilots of all skill levels. The easiest automatically levels the drone and automatically banks into turns. The medium difficulty allows you to control the roll of the drone yourself but still levels it out for you. Finally, the pro mode disables all levelling, giving you complete control.
As a racing drone, speed is important and it's good at that, it can fly at 25m/s. Unfortunately, the range is quite limited, at just 50 metres, so you'll have a hard time getting to high speed. The FPV camera also leaves a lot to be desired, with a sub 720p resolution and just 30 frames per second on a 4.3-inch screen. It does come with headset to mount the screen for a more immersive view, but it is bulky and heavy. Given the high power of motors the low flying time of just 6 minutes per charge is somewhat expectable.
Pros
High speed
Excellent control options for various skill levels
Shockingly cheap
Cons
Very limited range for a high-speed drone
The easiest setting may be too helpful for those trying to improve
Poor video quality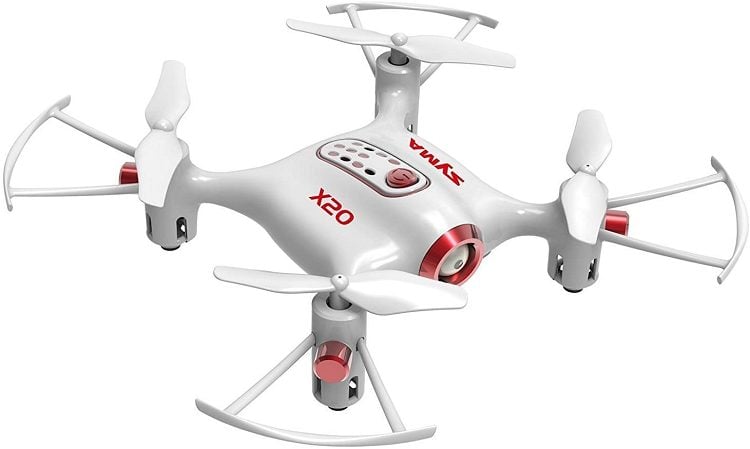 Key Features
Ultra-lightweight
Ultra-Cheap
Auto take-off and landing
Specifications
Top speed: unlisted
Maximum range: 20 metres
Weight: 22g
The Syma X20 Mini Drone is an ultra-lightweight drone intended as a toy for kids. It's ideal for a first learning experience in flying drones being relatively low power, cheap, and somewhat crash resistant gives it reasonable longevity and little pain if it does break. It even includes an FPV camera, although the resolution is only 480p.
As you might expect in something so small, the flight time is not long, at just 5 minutes. The battery will charge again in 50 minutes. The controller includes a dedicated trick button that allows it to do flips and rolls. When the battery is low, it will try to land itself safely rather than falling from the sky. You should still pay attention to low battery warnings though to make sure it doesn't try to land where it's not safe.
Pros
Great for kids
Can survive a few crashes
Relatively fast to recharge
Cons
Short battery life
Doesn't come with controller batteries
Easily affected by wind
Propel Star Wars TIE X1 Advanced
Key Features
Star Wars branding
Can have actual dogfights
Sound effects
Specifications
Top speed: 15m/s
Maximum range: unlisted
Weight: 450g
The Propel Star Wars TIE X1 Advanced drone is a licenced Star Wars product that comes with lights and sound effects. There are three models in the series with the others being an X-Wing and an imperial speeder bike featuring a mounted stormtrooper. They're each mounted with lasers and sensors which can be used for up to 12 drone dog fights.
The 10-minute flight time is bolstered by a second included battery, each of which takes 15 minutes to charge, so you won't have much downtime. you also get a number of spare parts including wings, guns, and propellers. Unfortunately, user reviews, suggest you will need these with many reports of poor crash resistance. The bottom-mounted propellers also mean you need to take off and land on flat surfaces and leaves them very vulnerable to bumpy landings.
Pros
Spare battery included
Spare parts included
Three levels of flight modes
Cons
Bottom mounted propellers
Best bought in twos or threes
Flimsy and unreliable
Key Features
Launcher and grabber addons
Light weight
Controlled via smartphone app
Specifications
Top speed: 5m/s
Maximum range: 20m
Weight: 64g
The Parrot Mambo Mission is a lightweight drone designed for indoor flight. At this weight, it's too easy to get blown around by even the slightest wind. It's controlled over Bluetooth via the smartphone app. The 5m/s top speed is not bad given the short 20m range of the Bluetooth connection.
The unique selling points of this drone are the two attachments: a cannon that fires tiny green cannonballs and a claw grip. Neither is particularly powerful, with the claw being able to lift just 4g. Nevertheless, these features are pretty unique and open up new fun games to play. While you may be tempted to get a second battery and its charging station be warned it is a lot slower to charge the battery, taking an hour and a half, and is likely not worth it.
Pros
Generally stable
Fun and unique addons
30 minutes of charge for 10 minutes of fly time
Cons
Easily affected by wind
Can't lift much weight
Weak camera
Those were our picks for the best budget drones in 2021. While none of them are particularly high-end, this shouldn't be expected from the budget category. There is a decent range of options, and some cool unique selling points, that may tempt even experienced drone pilots.
Have you bought a budget drone recently? Let us know your thoughts on it down below.