PayPal is a huge online payment provider. As an account that involves dealing with your money, you probably want to keep as on top of its security as possible. The single most important thing you can do to secure your account is to make sure that you've got a long, strong, and unique password to access your account. Other important steps include Two-Factor Authentication aka 2FA, ensuring the email account associated with your PayPal account has a secure password, and occasionally reviewing your login activity.
PayPal offers you the ability to look through a historical list of where and when your account has been logged into. By reviewing this information, you may be able to spot a suspicious login, alerting you to the fact that your account may have been compromised.
To review your login history, you need to open PayPal's settings. To do so, click the cogwheel icon in the top-right corner.

Once you're in PayPal's settings, switch to the "Security" tab, then click on "Manage your logins" to review your login activity.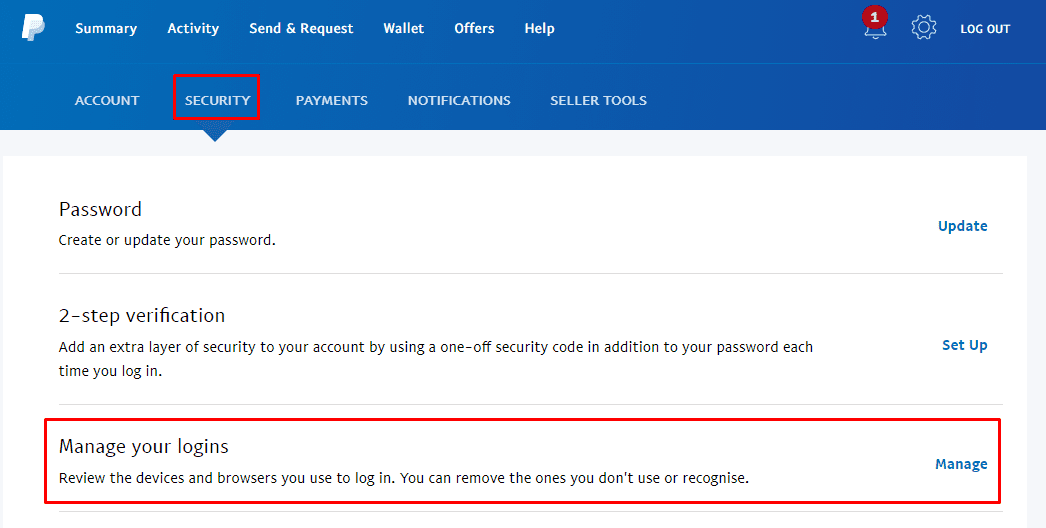 In the popup, you can then review recent logins. The information included about the logins includes the browser used, the operating system used, as well as the date and time of the login.
Note: It's possible for the browser and operating system information to be incorrect as this will be based on the self-reported browser user agent which can be highly confusing and is not 100% reliable. For example, Windows 10 is sometimes detected as Windows 8.
If any of the logins look suspicious, especially based on the date and time of login, then you should click the respective "Remove" link to disable that session, then immediately change the password to your PayPal account.