After having your Android device for a while, you have so many apps that you need a minute just to find one. You may not have seen the need to organize them since you had an idea where you could find them. But, by keeping them organized, you're going to be able to find them faster.
How to Find Your Android Apps Faster
The app icon appears in the nearest available space when you first download an app. When you don't have a lot of apps, the app icon is still easy to find. But, when you have a severe amount of apps, finding that one app can be frustrating. Here are some tips to keep your Android apps organized and, therefore, easier to find.
Move the Rarely-Used Apps to the Back
We all have those apps that we don't use often but don't want to install. If that's your case, why not move the apps you don't regularly use to the last page on your home screen? You can create a folder and name it something like Rarely Used. You can create a folder by dragging one app on top of another. When you let you, the folder will be created automatically.
You can do the same for the other apps you frequently use. For example, put all the Google apps, such as Keep, Translate, Drive, Etc, in one folder. So the next time you need to look for any Google app, you know what folder to look.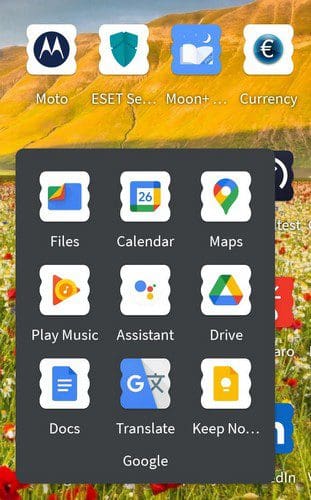 Don't forget to name your folder. Tap towards the bottom and name it. Where the button is it's going to depend where it'll be, but you can also add an emoji to the name. If you're using Gboard, longpress and then slide up on the emoji button. You can repeat the process for photo editing apps and games.
How to Organize Frequently Used Apps
The apps you use all the time can be placed front and center. So, as soon as you unlock your Android device, the first apps you're going to see are the frequently used ones. Also, if there's an action you usually perform when you open an app, why not access the app using the widget?
You can add the widget by long-pressing on the app, followed by the widget icon in the small window that appears. The number of widget options is going to depend on the app. When you see the widget, you want to use, touch it and drag it where you want it to be on your home screen. If you're using the WhatsApp widget and decide to place the widget to see your messages. Remember that you can adjust the size to see more or fewer messages.
Do You Need More Space?
You can only add so many apps before you need more space. Good thing that you can easily add more home screen pages. All you need to do is long-press on the app icon and drag it as far to the right as you can and you'll notice how an extra page will appear. Simply place the icon where you want it to go. If in the future you don't need that page, it'll go away automatically as soon as you remove the last app icon.
Conclusion
When you have your apps all organized, they are a lot easier to find. For example, having all your photo editing apps in a single folder will definitely save you some valuable time. It'll even free up some much-needed space on the home screen you can use for other apps. How do you keep your apps organized? Let me know in the comments below and don't forget to share the article with others on social media.