Microsoft's operating system is so common that we presume that anyone saying that they work on a PC are using Windows in one form or another. It's difficult to imagine life without Windows OS as a vast majority of personal computers currently run various versions of it.
It has enjoyed great success as the most popular system in the world, but this success was not attained easily. Microsoft has done substantial work through the years to make this the world's best OS.
Depending on the year, some versions of Windows were considered excellent and were well loved by all users, while others were regarded as failures, or at least not as good as previous ones.
Pros & Cons of Using Microsoft Windows
MS Windows is still the most common operating system on the Planet. Advantages of using Windows were once measured against using rivaling desktop operating systems, such as MacOS or Linux, but is currently more in danger of being surpassed by Android.
Pros
– Versatile
– Productive
– Secure
– Good Native Apps

Cons
– Bulky
– Resource Heavy
– Developed for keyboard & mouse

You can buy a USB drive with Microsoft Windows 10 Home Edition and join millions of users worldwide on a platform that is considered the industry standard.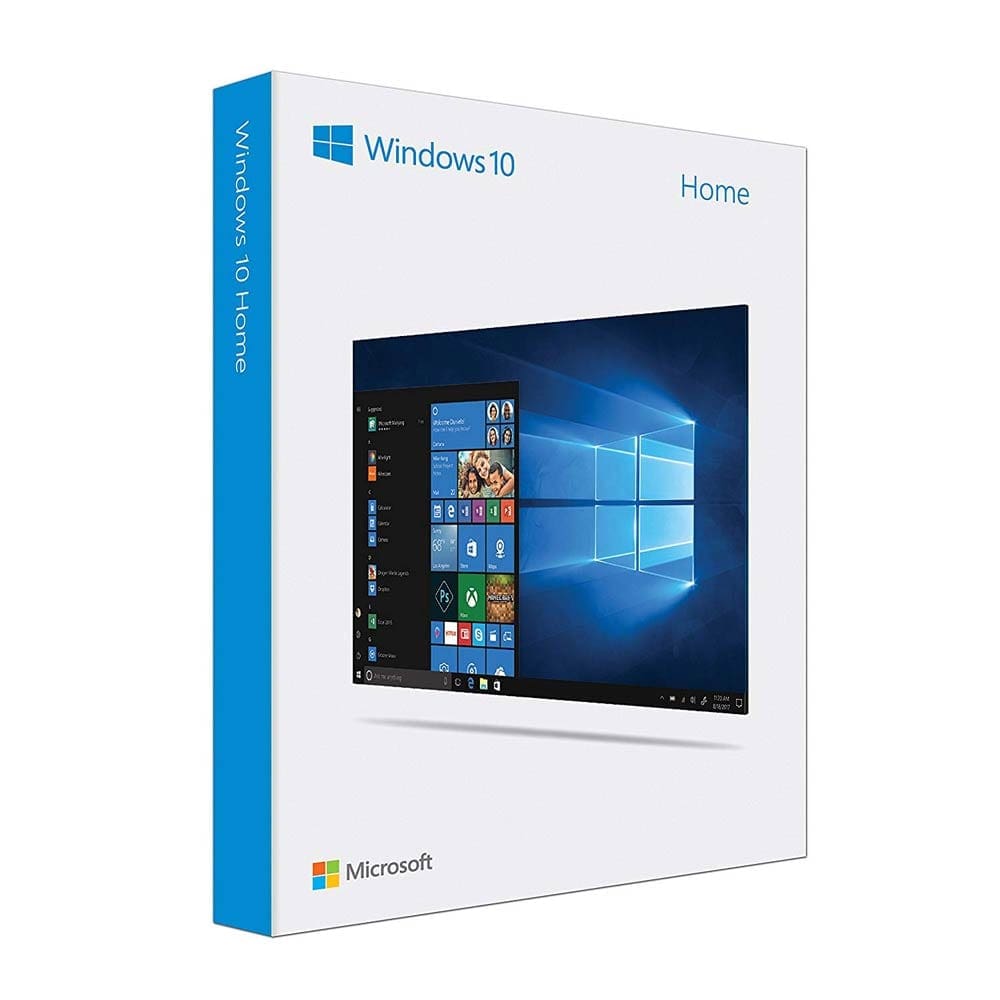 MS Dos:
This was the first OS designed for the IBM compatible PCs. This version of Windows was simple and was like another OS known as CP/M. In this Windows operating system, you had to type commands to it so it would know what to do.
Windows 1.0 to 2.0 (1985 to 1992):
Windows 1.0 allowed its user to point and click to access their Windows program instead of giving commands as with MS-DOS.
Windows 2.0 was released in 1987 and was designed with an Intel 286 processor. This Windows version added keyboard shortcuts, desktop icons as well as improved graphics support.
Windows 3.0 to 3.1 (1990 to 1994):
Windows 3.0 was offered even better icons as compared to the 2.0 version. It also had an advanced graphics feature with a 16-color design for the Intel 386 processor. This version provided a standard feel and look. Windows 3.1 was released in 1992.
Windows 95:
This version was released in August 1995 and was a great OS of that time because this version had a proprietary browser called Internet Explorer 1. This was to catch up on the waves of the new internet.
Windows 98:
Released in June 1998, Windows 98 was described as an OS that works and plays better. This version was provided support various new technologies such as DVD, FAT32, ACPI, AGP, USB, and MMX. It also included a new tool that was known as Windows Update. 
Windows 2000:
This version was released in February 2000 and made computing life easier by increasing the number of play devices and plug-ins that were compatible with this OS. Windows ME included some features of 2000 that helped to restore your crashed PC and offered a tool for system recovery.
Windows Millenium Edition:
As the name suggests, this edition was made back in 2000 as an OS that will bring us to the new millennium. It didn't. Windows ME was considered to be the worst piece of software made by the company, surpassed for this title only by the introduction of capture emojis to Skype in 2018.
Regarded mostly as a flop and often called "Mistake Edition", this version did introduce a lot of user-friendly solutions that were later integrated into XP and further iterations of the operating system.
While questionable if there is any useful function you might want to use Windows ME for, it is rare to find and will probably be a cherished item for IT collectors everywhere as a piece of computer history.
Windows XP:
XP was released in 2001 and offered a lot of functions for both desktop and laptop users. It included a comprehensive help center and provided the ability to access new types of media.
Windows Vista:
Vista was released in 2006 and considered a flop of an OS in the circle of technology. It contained a high level of system requirements and suffered from issues with security and performance. This OS was also not good for laptop batteries.
Windows 7:
Microsoft learned from its mistakes with Windows Vista and designed a stable, fast OS with minimal system requirements that were released in 2009. Windows 7's Media Center and security features were substantially improved in this version.
Windows 8:
This version embodied the vision of Bill Gates' future of computing. It contained touch and voice integration. The OS had a modern interface with flat tiles.
Windows 8.1:
There were a few changes from Windows 8 to a new design in Windows 8. 1. These changes are were an improved Start screen, Internet Explorer 11, a visible Start button, a Bing-powered unified search box, and a tighter integration of One Drive.
Windows 10:
It is the latest OS of Microsoft that provides a substantial number of new features for users, including built-in security, fast start-up, and resume. It also includes a new browser called Microsoft Edge and Start Menu that comes in an expanded form.