You may receive a message popping up on certain web sites when using Microsoft IE that says "The security certificate has expired or is not yet valid". Try these steps to solve it.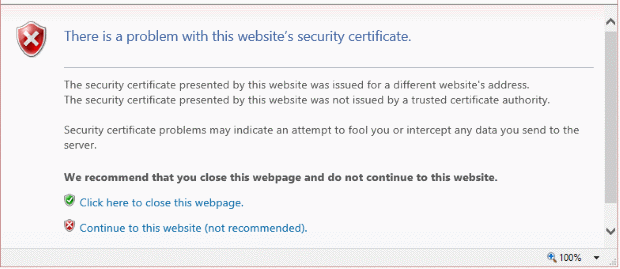 Fix 1 – Check Date and Time
Double-click on the time in the lower right corner on the Taskbar, select "Date and time settings".
Ensure the time, date, and time zone are set correctly.
If the time keeps switching on your computer, it may need a new CMOS battery. You can usually replace them yourself. They usually are the same type of battery as you would use in a watch.
Fix 2 – Install the Certificate
Be sure you know what you're doing before performing these steps.
Select "Continue to this website (not recommended)" if you trust the connection to the website.
Select the area of the Address Bar that says "Certificate Invalid".
Select "View certificates".
Walk through the wizard to install the certificate. You may have to manually browse to place it in the "Trusted Root Certification Authorities".