When giving app permissions, do you feel a little weird when one of those permissions is to access your camera and mic? You may feel like that app could be listening in on your conversations and accessing your camera when it's not supposed to.
Unfortunately, no integrated option allows you to disable your Android device's camera and mic. Sure, you can cover it up with tape, but that idea doesn't sound too appealing.  One hidden Android setting will allow you to disable the mic and camera and turn them back on with one tap.
How to Prevent Apps from Using Your Mic and Camera for Spying
The option you'll need to block the camera and mic is called the Sensors off option. But to access this option, you'll need to enable Developer Options. You can enable it by going to:
Settings
About phone
Tap build number seven times.
When you've tapped enough, you'll see a message letting you know that you're now a developer. After you see this message go back to Settings, but this time tap on the System option, followed by the Advanced option that'll reveal more options. You should see the Developer options near the bottom. Select it and swipe down slightly until you see the Quick settings developer tiles option.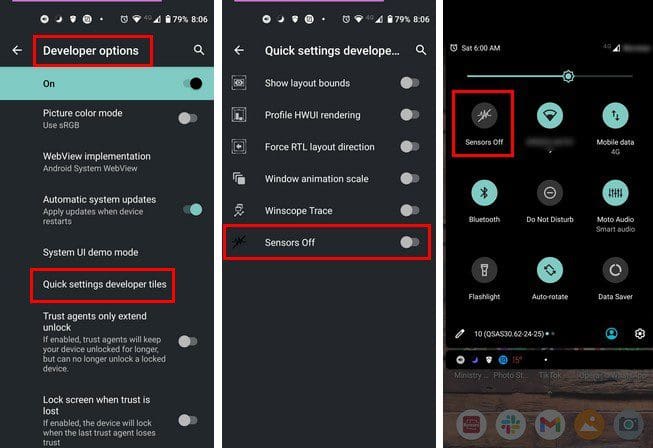 The last option down is going to be the Sensors off option. Enable this option, and now you'll see a new button in Quick Settings that'll be the Sensors off button. Tap on it to turn it, and from now on, your mic and camera will be blocked. No apps can access it. You can test this out by trying to use Google Assistant. You'll see that even if you say, ¨OK Google.¨nothing will happen since Google won't have access to your mic.
From now on, whenever you want to feel like no one is listening, you can enable the option at any time. When you need to use the mic and camera, you can turn off the option.
Conclusion
If you don't give apps the permissions they need, you can't use them. So, you don't have much of choice but to grant them access. But, you always have that feeling if the app is listening in on your conversations. Do you think you'll always have this option on? Share your thoughts in the comments below, and don't forget to share the article with others on social media.