Strong passwords help you to keep hackers at bay. Using complex passwords is a must in today's world, where hackers can't wait to get their hands on your credentials. But the average Internet user has tens of passwords they need to manage daily, which can become quite difficult.
Instead of hitting the "I forgot my password" button countless times, you can use a password manager to store and manage all your passwords. LastPass is currently one of the most popular password managers, but installing it may take longer than expected due to error 1603. Let's see how you can fix it.
Troubleshooting LastPass Error 1603
When installing new programs on your computer, make sure you're using an administrator account. Don't forget to check for updates and install the latest OS version on your machine.
Uninstall LastPass Leftovers
Error code 1603 may indicate there's already an outdated LastPass version installed on your computer. The same error may also indicate your device failed to remove all the LastPass files from a previous installation.
In other words, you need to uninstall old LastPass versions or delete the leftovers from a previous installation.
Launch the Control Panel, and go to Uninstall a program.
Select LastPass and hit the Uninstall button.
Run Disk Cleanup to uninstall temporary files, including LastPass temporary files.

Type disk cleanup in the search bar, and select the drive where you installed LastPass.
Then tick the two checkboxes dedicated to temporary files and hit the OK button.
Confirm you want to permanently remove those files.

Restart your computer.
Download and install the latest LastPass release on your device. Check if you're still getting error 1603.
If you're using the LastPass browser extension, click on your browser menu and select Extensions (or More tools and then Extensions). Select LastPass and hit the Remove button.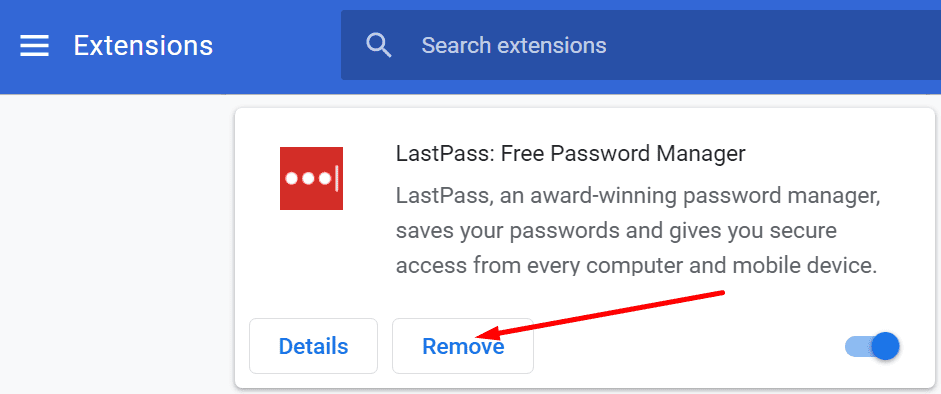 By the way, you can also use a software uninstaller to make sure your PC successfully removes all the files from previous LastPass installations.
Close Background Programs
Some of the programs running in the background may interfere with LastPass. Make sure to close all the background programs before you install the password manager. This includes your antivirus and firewall as well. Your security programs may mistakenly label LastPass files as suspicious and block them from installing on your machine.
Launch the Task Manager and click on the Processes tab.
Right-click on the programs you want to close and select End task.
Then go to Windows Security, select Manage settings, and disable Real-time protection.
Launch the Control Panel, and navigate System and Security → Windows Defender Firewall → Turn Windows Defender Firewall on or off.
Try to install LastPass again.
Conclusion
LastPass error code 1603 indicates your computer could not install the password manager. To fix the issue, use an administrator account, close background programs, and remove any software leftovers from previous LastPass installations. Use the comments below and let us know if you managed to troubleshoot this problem.