Error code 354 Missing/ Bad FileProvider indicates that some of the apps installed on your Android device need your permission to use the front camera. This error usually occurs if the app trying to access your camera failed to install properly or got corrupted after you installed it on your device. The good news is that you should be able to quickly solve this problem with the help of the solutions below.
Solutions to Fix Android Error 354
Update Your Apps and OS
First things first, make sure your apps and Android OS version are all updated.
To manually update your apps, launch the Google Play Store app and tap your profile picture. Select My apps & games to check if there are any pending updates for your apps. Tap Update all to update your apps in one go.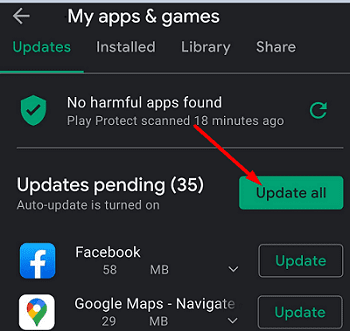 To update your Android apps automatically, launch the Google Play Store app, tap your profile picture, and select Settings. Go to Auto-update apps and select your update preferences in the new window that appears on the screen.
Don't forget to update your Android version. Go to Settings, select Software and updates, and tap Software updates. Restart your Android device and check the results.
Let Chrome Access Your Camera
Many users confirmed they solved the problem by giving Google Chrome permission to access the camera. Check if the error message stops after you do that.
Launch the Chrome app and tap More options.
Go to Settings, and select Site Settings.
Tap Camera and let the browser access your camera.
To let Chrome access your camera, you need to turn it on in Android settings.
Reinstall the Problematic App(s)
If the error persists, uninstall the problematic app and restart your device. Then reinstall the app that triggered the error and check if you notice any improvements.
If this method didn't work, go ahead and permanently uninstall the problematic app. For example, many users said the Bajaj wallet app often triggers error 354. Remove the app from your device, and check if the issue gets resolved.
Conclusion
To fix error 354 on Android, install the latest updates for your apps and OS. Additionally, let Chrome access your camera and reinstall the apps that triggered this error. If the issue persists, remove the problematic apps for good. Did these solutions help? Let us know in the comments below.