As more and more users switch over to Signal due to privacy concerns, reports about various glitches start emerging. Many people complained about bad video call quality or random delays on Signal. If you're looking for a solution to fix these problems, pursue the troubleshooting steps below.
How Can I Improve Video Call Quality on Signal?
Update the App
The Signal Foundation regularly rolls out new updates and improvements, so make sure to keep your app up-to-date. Launch the Google Play Store app, search for Signal, and tap the Update button.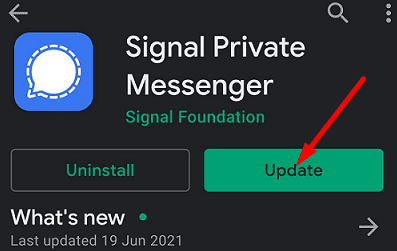 If you want to install all the pending app updates, tap your profile icon, select Manage apps and games and then tap the Update all button.
Additionally, go to Settings, select System Update, and check for updates. Install the latest Android updates, and restart your terminal.
Check Your Bandwidth
Video calls use quite a large amount of bandwidth. If your connection is unstable or other devices use too much bandwidth, that could explain why your Signal video calls look blurry, and the image often freezes on the screen.
Prevent apps from using background data to free more bandwidth for Signal. Go to Settings, select Data usage and toggle off background data for all the apps except Signal.
If you're using cellular data, switch to a wireless connection and check if you notice any improvements. Additionally, if you're inside a building, go to a different room and test the video quality.  If you're already using a Wi-Fi network, make sure to disconnect all the other devices using the connection. Additionally, restart your router, and check the results.
Also, if your battery is running low, plug in the device and wait until the battery reaches at least 25 percent. Your terminal may restrict cellular data usage and even block certain apps and features in order to extend battery life.
Adjust Lighting
Make sure to brighten the scene a bit. If the image is dim, go near a window to improve lighting or turn on the light. Your camera should adapt to the new lighting conditions after a few seconds.
Conclusion
If your video call quality is awful on Signal, update the app and install the latest Android updates on your device. Then make sure to free up more bandwidth for Signal to use. Switch to a wireless connection and check if you notice any improvements. Did these tips help you improve video call quality on Signal? Share your feedback in the comments below.