You know that all the text and files you share on WhatsApp are encrypted. But, did you know that your Google Drive backups are not? That's why some users decide to delete their WhatsApp backup. Maybe you don't have sensitive information saved on WhatsApp and can go without having a backup anyway.
Regardless of the reason as to why you want to delete the WhatsApp backup, the following guide will show you step-by-step how to do it.
Erase All WhatsApp Data from Google Play
Before you erase your WhatsApp data, it's a good idea to have a copy of the information you're going to erase somewhere else. You never know when you might change your mind or need that information in the future. The backup is good to have until you know for sure that you're not going to need it.
To erase all WhatsApp backup data from Google Drive, first, you'll need to go to Google Drive's site. Once you're there, make sure you're signing in with the same account you added to your WhatsApp account. Click on cog-wheel and go to Settings.
Once you're in Setting, click on the Manage Apps option. Once you're in there, you're going to see a list of various apps. Scroll all the way to the bottom, and locate the WhatsApp backup.
Click on the Options drop-down menu, and from the two options listed, choose Delete Hidden App Data. You'll get a warning message letting you know the amount of data that's going to be erased. If you're sure that's what you want to do, go ahead and click on Delete.
That's all there is to it. You can also erase the WhatsApp backup data from the file manager you may be using.
For example, if you're using Google Files, go to Internal Storage and then swipe all the way down to WhatsApp.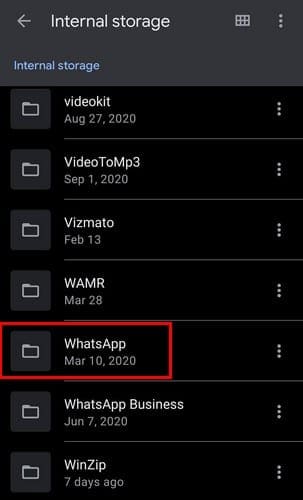 Tap on backups and then choose the type of backup you want to erase.
How to Erase WhatsApp Backup from Google Drive – Android
The above instructions will help you out if you're on your computer, let's say for work reasons. But, if you're on your Android device most of the time, here how you can erase the backup. Open the Google Drive app and tap on the three-lined menu at the top left.
When the side menu appears, tap on the Backups option. Locate the WhatsApp backup and tap on the options three dots, which should be to the right. The Delete backup option will be the first one on the list.
Conclusion
WhatsApp backups are useful when you can't afford to lose certain information. But, when you can go without a backup since you store your sensitive information elsewhere, these backups aren't that necessary on Google Drive. Do you think it's necessary to have a WhatsApp backup on Google Drive? Let me know in the comments below. Don't forget to share this post on social media so others can benefit as well.