If you use Google Drive for work a lot, it's easy to forget to erase files you don't need anymore. Those big files you share are surely the ones responsible for taking your Google Drive account to the limit. The good news is that you can do something to make more space on Google Drive for more important files without having to permanently erase your files.
If you want to stay away from that 15GB limit, you can easily find those big files and see if they're worth keeping. After that, you can relax knowing that you won't have to buy more storage space for your files.
How to Make More Space for Files on Google Drive
Once you've signed into your Google Drive account, you'll see how much storage space you have left at the bottom left. A blue line will indicate how close you are to reaching the 15GB limit.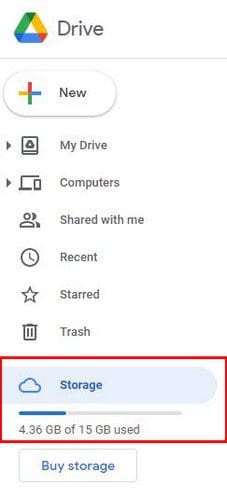 You'll see all the files you have to the right after clicking on the Storage cloud option, starting with the biggest one on top. As you scroll down, the files will only get smaller and smaller. To the right of the file, you'll see how that specific file is. You can preview the files by clicking on them, but you'll have to exit the file if you want to erase it. If you're looking at an image, click on the dropdown menu where it says Open with, and you can choose from those options to open your file.
If you don't see an app you need, you can always go to Connect more apps and download it from the Google Workplace Marketplace.
By clicking on the dots at the top right, you'll see options such as:
Share
Move to
Add star
Rename
Find
Open in new window
Manage Comment notifications
Erasing Files
To erase a document to make more space, you'll need to right-click on the file and choose delete. Near the dots, you'll also find the option to add a comment if you end up keeping the document. If you want to keep the document but not on Google Drive, don't forget to download a copy before erasing the file.
To remove more than one file, you won't see checkboxes; that would have been nice. You'll need to click and drag the cursor until all the files you want to download or erase are selected. You can also press CTRL or Command and click on the file individually. Once they are selected, right-click and either download them or erase them. To erase one file, click on it to highlight it, and the trash icon will appear at the top right. Next to the trash icon (dots), you can access other options such as:
Open with
Show file location
Add shortcut to drive
Move to
Add to starred
Rename
Manage Versions
Make a copy
Download
By clicking on the Show File location option, you can access other images or file you might want to erase by seeing what else is in the folder that specific picture is in. Google Drive won't automatically give you more space by erasing the files. You need to permanently erase the files to make more space. If you only erase them like in the beginning, the file only goes to the trash bin, where you have a total of 30 days to recover them if you change your mind.
Permanently Erasing Files
If you want to erase the file permanently, you'll need to click on the Trash option on the left. There, you'll see all the files you erased. To erase them all permanently, click on the empty trash option at the top right. You'll see a confirmation message about deleting those files. Click on the Delete Forever option to go through with it. But if you only want to erase one, click on that file and then on the Empty Trash option.
Only after doing this will you see that you have more storage available.
Conclusion
If you regularly use cloud storage, then you might worry about reaching the limit frequently. Make sure to only keep files you need and erase the ones you haven't opened in a long time. If you're not sure, it's always best to download a copy, just in case. Remember that your files will only be gone forever if you permanently erase them. If you only put them in the trash, they will still be there for 30 days; after that, they'll be permanently erased. Do you have a lot of unnecessary files to erase? Let me know in the comments below, and don't forget to share the article with others on social media.