If you have your WhatsApp account set up that way, anyone can see your profile picture. That may be why you want to have the best possible picture as your profile image. But, since WhatsApp only allows the pictures to be of a specific size, it might not let you show as much of the picture as you would like. This can be very annoying if the picture you have is amazing. No matter how you shift the image, you just can't make it fit.
In the end, you might just opt to choose another picture you're not too fond of. There's an app that can fix the problem. It allows you to add any picture to your profile without cutting any part of the image out. The image might not be as big as you'd like, but at least you'll be able to fit it all. It also gives you the options to give your new profile picture your own personal touch.
How to Make Any Picture Fit into Your WhatsApp Profile Picture
The app you're going to need is called WhatsCrop. The app is free to use and gets the job without going to Premium to use important features. When you first open the app, you'll see a white square with a dotted circle in it. This is where you're going to preview your image, so you know how it's going to look like in your WhatsApp profile. To add an image, tap on the image icon, which is the first on the left. When a small window appears, you'll see three options:
New – Use this option when you've already added an image and want to replace it.
Select photo – Use this option when you're adding an image for the first time.
Take Photo – The app will use your device's camera to take a new picture.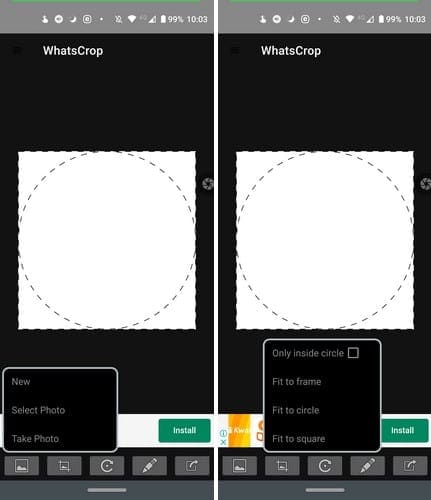 Once you've added an image, the app will give you instructions on how you can adjust the size of the image to your liking. By tapping on the cropping icon, you get access to cropping options such as:
Only inside circle
Fir to frame
Fit to circle
Fit to square
The image's size will be adjusted according to the option you choose. The rotate option will allow you to rotate your image:
Center
Align
Rotate right
Rotate left

Add Some Style to Your Image
By tapping on the pencil icon, you can add some style to your WhatsApp image. For example, you can add things such as:
Shadows
White border
Background blurred
Background color
The Background image
Photo Frame – You can choose from themes such as Love, Spring, Winter, Summer, Autumn, Classic, Thanksgiving, New Year, Christmas, India, Father's Day, Saint Patrick, and Easter. Your image will appear in the frame, so you preview it. There's an option to turn off the preview option.
Filter – Coming in May of this year.
With the icon of an arrow pointing right, the last option is to wrap things up and save your image for posting. As you can see, the app gives you quite a few options when it comes to cropping and styling up your image. All you have to do now is added the finished image to your WhatsApp profile.
Conclusion
Thanks to WhatsCrop, there no image you can't add to your WhatsApp profile. The only tough part is choosing an image from various options, but unfortunately, the app can't help you there. What kind of image are you going to be adding to your WhatsApp profile? Let me know in the comments below.