If you forget your number, there are several ways you can find it again on your S10e device. Your first and easiest option is to call someone else's phone – your number will appear on the screen!
Alternatively, and depending on your phone provider and SIM settings, you can also find out through your Settings. Open the app and scroll all the way down to the About Phone section. There, at the top, you'll find your phone number.
This method may not work though – certain SIM cards or providers may not support this function; in which case the phone will show Unknown next to the number option. All hope is not lost though – you still have other options to find out your number!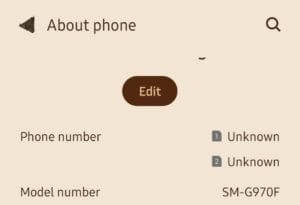 Open your Contacts app – at the very top, you'll find an entry labelled 'Me'. Tap it, and you'll see your phone number displayed.