Many Microsoft Edge users complained that YouTube audio occasionally cuts out for three to five seconds. The video keeps playing during all this time but then stops, waiting for the audio to catch up. Then both video and audio sync back as if nothing happened. This may not seem like a major issue, but it can become really annoying, especially if it keeps re-occurring every few minutes or so. So, without further ado, let's explore how you can fix this audio glitch on Edge.
Why Does YouTube Sound Keep Cutting Out on Microsoft Edge?
Fix Your Browser
First things first, make sure your browser is working properly. Your browser cache files or extensions might be interfering with YouTube causing audio to cut out randomly.
Click on More options (the three dots), select History, and then click on More options again.
Select Clear browsing data.
Clear your cache and cookies from the last four weeks.
Then go back to More options, select Extensions, and toggle off all your browser extensions. Refresh your browser, close all unnecessary tabs, and check if YouTube audio is still cutting out.
If the issue persists, click again on More options, go to Help and feedback and click on About Microsoft Edge to check for updates.

Don't forget to upgrade your Windows 10 OS version as well. Restart your browser and try again.
Run the Audio Troubleshooter
You can also use Windows 10's built-in audio troubleshooter to repair audio issues automatically. Go to Settings, select Update and Security and click on Troubleshoot. Then click on Additional troubleshooters and run the Playing Audio troubleshooter.
Check Your Connection
If your Internet connection is not stable or you're experiencing bandwidth issues, that could explain why YouTube is not working properly. Maybe the audio interruptions you're experiencing are due to your network connection.
So, restart your router and computer and switch to a cable connection if you have an Ethernet cable at hand. Additionally, disconnect other devices using the connection and check your Internet speed.
Reinstall Edge or Switch to a Different Browser
If the problem persists, uninstall and reinstall Edge. If YouTube audio is still cutting out, switch to a different browser and check if you notice any improvements. Since both YouTube and Chrome are owned and operated by Google, test if the issue is gone on Chrome.
Update Your Audio Driver
Ensure you're running the latest audio driver version on your machine. Launch the Device Manager, and expand the list of Sound, video, and game controllers. Right-click on your audio driver and select Update Driver. Restart your machine and check the results.
Disable Sound Effects
Navigate to Control Panel and select Hardware and Sound.
Then click on Sound and select the Playback tab.
Right-click on your playback device and select Properties.
Click on the Advanced tab and disable audio enhancements.
Refresh your browser and check if your YouTube audio issue is gone.
Close Background Programs
Check if your background programs are interfering with Edge. If you're running resource-hogging programs, they could be using too much CPU and RAM. In other words, there's not enough memory and CPU power left for Edge.
Launch the Task Manager, click on the Processes tab, and right-click on the apps and programs you want to close. Hit the End task button to close the respective programs.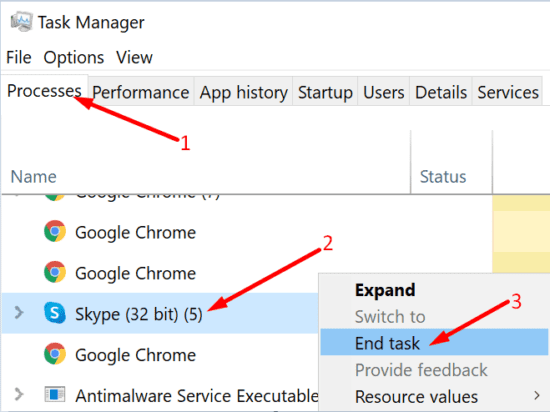 Or you can simply clean boot your computer.
Conclusion
If YouTube audio randomly cuts out on Edge, update your browser, clear the cache and disable your extensions. Additionally, run the Audio troubleshooter, disable audio enhancements, and update your audio drivers. If the issue persists, switch to a different browser. Which of these solutions worked for you? Let us know in the comments below.