"Cannot start Microsoft Outlook. The set of folders cannot be opened. The operation failed". Unfortunately, way too many users are familiar with this error. It usually pops up out of nowhere when you launch Outlook. In this guide, we'll list a series of simple and easy-to-follow solutions to help you troubleshoot the problem.
How to Fix "The Set of Folders Cannot Be Opened" Error in Outlook
⇒ Important Note: Back up your Outlook data before pursuing the solutions below.
Launch Outlook in Safe Mode
Press the Windows and R keys to launch a new Run window. Then type Outlook.exe /safe, and hit OK.
If the issue is gone in Safe Mode, most likely, your add-ins are to blame. Go to the next step and disable your add-ins.
Disable Your Add-Ins
Launch Outlook and go to File.
Select Options, and click on Add-ins.
Click on Manage and hit the Go button.
Select the add-ins you want to disable and save the changes.
Don't forget to update your Outlook version. Click on File, select Office Account, and go to Office Update. Click on Update Options and select Update now to update your email client.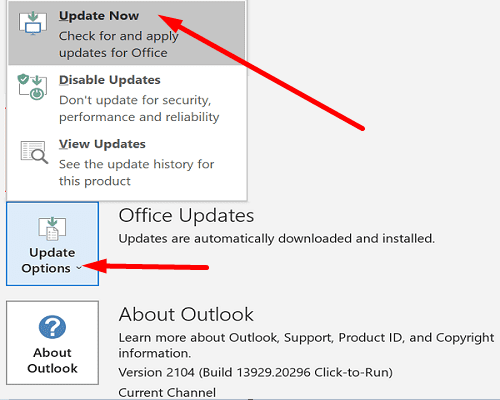 Recreate Your Email Profile
Some users were able to fix this error by recreating their email profiles.
Type regedit in the Windows Search bar and launch the Registry Editor.
Then, navigate to Computer\HKEY_CURRENT_USER\SOFTWARE\Microsoft\Office\16.0\Outlook\Profiles
Go ahead and delete all the folders listed under Profiles.

Note: Depending on your Office version, you may need to navigate to Computer\HKEY_CURRENT_USER\SOFTWARE\Microsoft\Office\15.

Relaunch Outlook and recreate your email profile.
Go to File, select Account Settings, and click on Manage Profiles.
Then go to Show Profiles and hit the Add button.
Enter all the necessary details in the Profile Name box and save the changes.
Alternatively, if you're not comfortable using the Registry Editor, you can only follow the steps from 5 to 8 to create a new profile.
If you can't create a new profile using Outlook, go to Control Panel → Mail → Show Profiles → Add.
Repair Office
Go to Control Panel and select Programs.
Click on Programs and Features and select your Office package.
Hit the Change button and launch the Quick Repair tool.
If the error persists and you still can't use Outlook properly, run the Online Repair tool as well.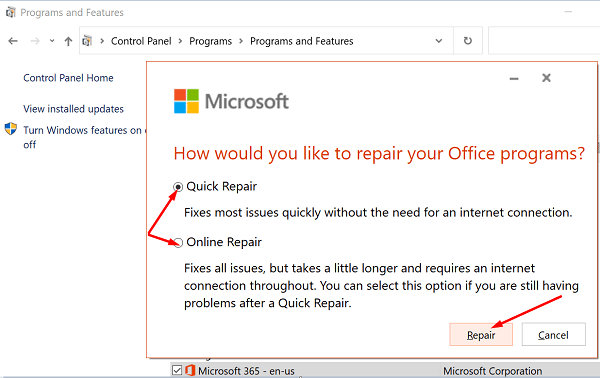 Repair Outlook
Go to Settings and select Apps.
Then click on Apps and Features and select Outlook (or Outlook Desktop Integration).
Go to Advanced options and hit the Repair option.
Alternatively, you can repair the Outlook data file (.pst) file directly.
Close Outlook and navigate to Outlook 2016/2019: C:\Program Files (x86)\Microsoft Office\root\Office16 or Outlook 2013: C:\Program Files (x86)\Microsoft Office\Office15 (depending on your Office version).
Locate and run SCANPST.EXE.
Click on Browse to select the Outlook Data File (.pst).
Hit the Start button and then select the Repair option.
Run Microsoft's Support and Recovery Assistant
There's another handy tool that you can use to repair Outlook. The Microsoft Support and Recovery Assistant can quickly find and repair various Office and Outlook issues. Download the tool from Microsoft, install it on your computer, and follow the on-screen instructions to repair Outlook.
Reduce Outlook Data Size
Large mailboxes can take an awful lot of time to open. Apart from that, they may also trigger various errors while loading. Reduce the size of your mailbox and Outlook data files and check if the error persists.
Launch Outlook, click on File, select Tools, and click on Mailbox Cleanup.
Select the items you want to remove and confirm your choice.
To reduce the size of the data file, empty the Deleted Items folder.
Then click on File, and select Account Settings.
Go to the Data Files tab, and select the file that you want to compact.
Go to Settings and hit the Compact Now option.
Exchange and Outlook.com users need to click on Settings → Advanced → Outlook Data File Settings.
Reinstall Outlook
If you're using the standalone desktop app, uninstall it and restart your computer. Then download Outlook again (the 64-bit version). If the error persists, go to Control Panel and select Uninstall a program. Then uninstall your Office package, restart your machine again and reinstall Office. Check the results.
Conclusion
Microsoft Outlook may sometimes fail to launch with the "The set of folders cannot be opened" error. To fix it, launch Outlook in Safe Mode and disable your add-ins. Then repair Office and Outlook, create a new user profile and reinstall the email client. Which of these solutions worked for you? Let us know in the comments below.