If you want to hide your Facebook photos from the public, you need to edit your privacy settings. In this quick guide, we'll show you how you can control who can view your Facebook photos. Use a desktop browser to change the settings.
How Do I Make My Facebook Photos Private?
How to Hide Your Photos From Public
Click on your profile picture, and select Photos.
Go to Albums, and select the album you want to hide from the public.
Then click on Edit album, and select the current privacy settings.
Select a new audience (Friends or Only me).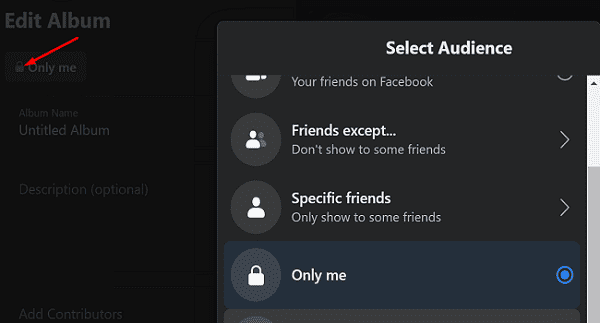 How to Hide Facebook Photos From Friends
If you want to hide your photos from your friends, navigate to Photos, select Albums, and click on Edit album. Change the audience settings to Specific Friends or Only me.
You can also edit the privacy settings of individual photos. However, if you shared that image as part of an album, you need to tweak the privacy settings of the whole album.
How to Hide the Photos You're Tagged In
If you don't think you look good in certain photos, or you simply don't want to be tagged in someone else's photos, you can remove the tag or ask the user who uploaded the photo to take it down.
Go to the photo you're tagged in.
Click on More Options, and select Remove tag.
You've got two options: either remove the tag or ask the user who shared the photo to remove it from Facebook.
Then, go to Settings, and select Profile and Tagging. Go to the Tagging section, change the audience of those posts, and set it to Only me.
Can I Hide Featured Photos on Facebook?
Your profile photo and cover photo are always Public. This means there's no way of hiding them. To work your way around this limitation, delete your current photos and replace them with generic images, such as smiley faces. Or upload an emblematic image for you that doesn't reveal your face or appearance.
Featured photos are visible to everyone, even if you're using a private account. Many people who use a private account argue that not being able to change the privacy settings of featured images defeats the purpose of a private account.
As a quick reminder, Facebook's main goal is to connect people. The platform doesn't let you hide your name, profile photo, and cover photo because that is how people who know you in real life can actually find you on Facebook.
Conclusion
One way to protect your privacy on Facebook is to hide your photos from the public. You can take this one step further and tweak your privacy settings to hide your photos from friends as well. Of course, there's also the option to permanently delete your photos. Which of these options do you prefer? Let us know in the comments below.