If you're a member of various Facebook groups, your News Feed may look a bit cluttered, to say the least. If there are no posting rules in those groups, you'll get many random spammy posts on your feed. What's worse is that you're forced to scroll down for a few minutes to find your friends' posts. Well, if you're looking for a solution to solve this visual clutter problem, you can simply hide group posts.
How Do I Stop Facebook Group Posts from Showing up on My Feed?
To stop seeing posts from the groups you're a member of, go to that group's page, and click on More options. Then select the Unfollow group option from the dropdown menu.
If the option is missing under the three dot menu, select Joined in the left pain, then choose Unfollow group.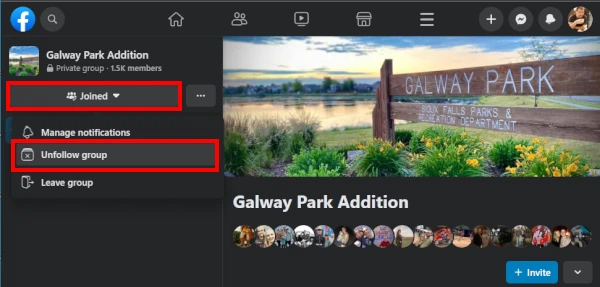 You'll still remain a member of that group; it's just that you will no longer see any group posts on your feed.
Alternatively, when you see a post from that group on your feed, click on More options, and select Hide from the group to stop seeing posts from that group.
You can also snooze posts from a specific group for 30 days. Click on More options, and select Snooze group for 30 days. In this manner, you can buy yourself enough time to assess whether you still want to see posts from that group or not.
Conclusion
To conclude, it's safe to say that social media networks are designed to steal your attention. They perfectly satisfy our need for novelty and change and easily hook us in front of our screens for hours on end. One solution to escape this vicious circle is to take control of what appears on your feed. To prevent Facebook group posts from appearing on your feed, simply select the "Unfollow group" option.