Tracking scripts are an almost universal part of the internet. Advertisers use them to monitor your internet activity across as many websites as possible in order to build up an "interest profile". This interest profile is used to target advertisements to you that the advertiser believes you will be more likely to be interested in.
Most websites also run some form of site-based tracking scripts that only track your activity on that website. This sort of tracking is generally done for debugging purposes. This data can also be used to analyse what parts of the site see the most engagement, which can lead to design changes.
This tracking data and the analysis of it can be a big privacy concern for many people. To help those people that are concerned, some browsers and extensions offer to block tracking scripts. This prevents your usage data from being collected and analysed.
The Edge browser for Android has a tracker blocker built-in and enabled by default. You can configure the settings though to be more or less strict or disable it entirely if you prefer.
The tracker blocking configuration options can be found in the in-app settings. To access the settings, you need to tap the triple-dot icon in the centre of the bottom bar.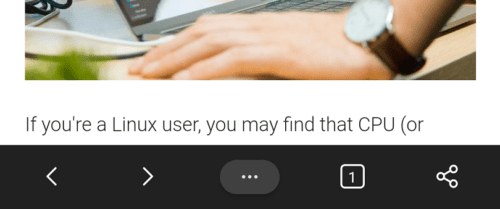 To open the in-app settings themselves, you next need to tap the "Settings" icon in the top-right corner of the popup pane.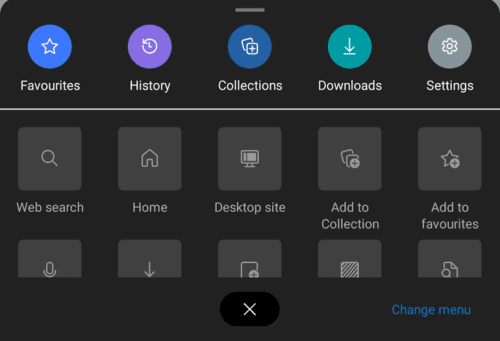 The tracker blocking settings can be found by tapping on "Privacy and Security" in the "Advanced" section. This will be the seventh item from the bottom of the main settings page.
To configure the tracker blocker tap "Tracking prevention", this will be the fourth item from the top of the "Privacy and Security" page.
The tracker blocker has three main setting levels Basic, Balanced, and Strict. Basic only prevents known harmful trackers from running, all normal tracking scripts will be allowed to run. Balanced is the default setting, it blocks third-party trackers from sites that you haven't visited as well as known malicious trackers. Strict tracker blocking will block most tracking scripts, even first-party ones. This may break some sites and will result in the adverts you see having minimal personalisation.
You can add an exception to the tracker blocker by tapping "Exceptions" and entering the website you want to exclude. All trackers will be allowed on websites that you add to the exception list, this includes known malicious trackers, so use this option with care.
If you want to disable the tracker blocking entirely, tap the "Tracking prevention" slider at the top of the page to the "Off" position.