Deleting your WhatsApp or Telegram account can be a painful process since you've shared so much. Good thing that the process is quick and easy, but keep in mind that once you go through with it, there is no going back. WhatsApp would not have a backup waiting for you if you were to change your mind.
Even if you're absolutely sure that you don't want to recover your account, back up any information you might consider necessary. It's better to be safe than sorry.
What Happens After I Erase My WhatsApp Account?
Like I mentioned earlier, once you erase your WhatsApp account, you can't recover it. Once it's done, it's done. Even though it does take 90 days for WhatsApp to erase the information it has on their servers, there is no way to access your data.
By deleting your account, the messages others may have from you will not be affected. So, if you've sent someone information you need access to, you can contact that person so they can send you the info through some other means.
WhatsApp can have copies of some material in their database, but can't be linked to any user. Even after the 90 days, WhatsApp says it only keeps your information so it can continue to have it for legal purposes. For example, to address fraud and any other illegal movement.
Also, any info that was shared with other Facebook Companies will be gone. All those Google Drive WhatsApp backups you created will even be gone.
By deleting your WhatsApp account, your profile won't appear in groups and friend's lists. It will be like you never existed on WhatsApp.
How to Erase a WhatsApp Account
Canceling a WhatsApp account is very easy and only takes a few steps. Go to WhatsApp's main page and tap on the three dots at the top right. Select settings, followed by the Account option. The last option down will be the Delete My Account option.
After choosing this last option, you will see a small list of things that will happen if you decide to erase your account. Make sure that the country you are in is displayed correctly and the dialing code for your country as well.
Once all the information is entered correctly, tap on the red Delete My Account button.
How to Temporarily Disable Your WhatsApp Account
Was your device lost or stolen? In that case, you don't want to erase your WhatsApp account permanently. What you can do is write to WhatsApp at the following email: support@support.whatsapp.com. In your email, explain that you only want to deactivate your account and not delete it and don't forget to make the subject of the email "Lost/Stolen: Please deactivate my account.
You will need to provide your phone number in its international format. The account will be deactivated as soon as you send the email and to activate it. You'll need to do it through a phone call or SMS like you did when you first installed it.
If you have a tendency to forget things, send yourself a reminder to activate your account. WhatsApp will automatically erase your account if you don't enable within 30 days.
What Happens When I Delete My Telegram Account?
Just like with WhatsApp, when you delete your Telegram account, all of your messages are gone for good. Your account will no longer be in contact lists, groups, channels, and all of your messages will be deleted.
Once you delete your account, there is no way to get it back. If at a later time you come back to Telegram, you won't be able to get back all your data from your previous account.
Any channels/groups that you may have created won't be erased and will continue to work as usual. Any users that you assigned administrative privileges will keep their status, but if you were the only admin, then Telegram will give the position at random to someone in the group.
If you were to come back within a few days, Telegram would make you wait a few days before you can come back with the same number.
How to Delete Your Telegram Account
There is a way to erase your telegram without you having to do anything. The only downside is that you have to wait six months for it to happen since Telegram will automatically delete your account if it remains inactive for that amount of time.
To speed up the process, you'll need to go to Telegram's web portal to erase your account; currently, there is no option to delete your account directly from the app.
Type in your phone number in its international format. Afterward, you'll get a code that you'll need to enter. On the next page click on the Delete Account link.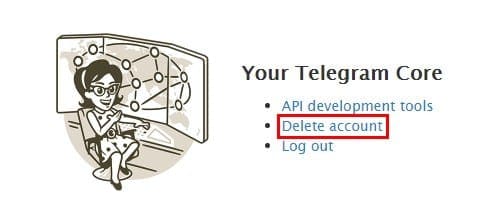 Fill in the box that will ask you to explain the reason you're leaving. After that, a red Yes, delete my account will appear beside a green one that says Nope, I'll give it another try. Choose wisely. Once you click on the red button, there is no going back.
Conclusion
As you can see, erasing your WhatsApp clears absolutely everything. If what you want to do is temporarily disable your account, so you log out of every device you have WhatsApp, deleting it is not the answer. What issues have you been having with WhatsApp to be thinking of erasing it? Share your thoughts with me in the comments below.