There are all kinds of notifications to deal with. For example, you can get notifications such as Push Notifications from an app to inform you of something. Push Notifications are the kind of notifications that are pushed in your direction automatically.
Regardless of the type or amount of notifications you get, it's essential to know how to manage notifications on Android. If not, notifications can get really annoying.
What are Notifications?
Simply put, a notification is a message a user gets that is displayed outside of the app's user interface. Thanks to this message, you can get reminders and other important messages that an app has for you.
You can get these messages in different places. For example, you can see them in the status bar (swipe down from the top of your display to see more information) and on the right on the app's icon (badges). They can also appear in the notification drawer, and on paired wearables.
How to Interact With Notifications
So you got a notification, now what? Unless you do something, the notification is just going to sit there. If you continue to get more notifications, the first ones you got will just pile up but remain in the status bar.
The fastest way to dismiss or deal with a notification is through the status bar. If you want to dismiss a notification, simply swipe it towards the right.
When you swipe down from the top of your display, you'll get a better look at your notification. By swiping down on a notification, you will see options to interact with that specific notification.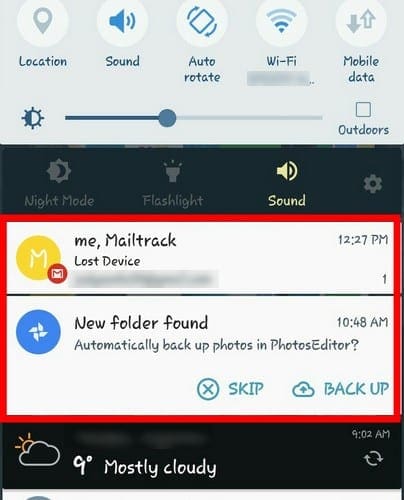 In the image above, after swiping down on it, the notification from Google Photos showed options to either skip or back up. Each individual app will show you options so you can manage the notification. If you don't see the option you need, tap on the notification for more options.
Some apps won't require that you swipe down to interact with them. Heads-up notifications will show you a small window at the top of your display and can be seen right when the app sends you the notification. But, you need to act fast because the notification is only going to stay there for a few seconds.
For Oreo users, you can snooze the notifications by sliding a notification slightly to the right and let go. You should see a clock icon, select it, and then choose for how long you want to snooze the notification.
How to Hide Notifications From Lock Screen
Your lock screen is another place where notifications can appear. The good thing about seeing your notifications on the lock screen is that you can see what it's about without having to unlock your phone.
The bad thing about seeing your notifications on your lock screen is that anyone that is near your phone can see it. For example, you can get a private message, but since you left your phone unattended, your friend saw a message that was not intended for him/her.
To hide notifications on your lock screen, go to your device's settings > lock screen and security > notification lock screen. Tap on this last option, and you should see the option to either hide or show the content of your notifications.
If you are on Android Oreo, then to go to Settings > Apps and notifications > Notifications > On the lock screen and you can choose from different options. You can choose from options such as Don't show notifications at all, Show all notification content, and Hide sensitive notification content.
What Are Notification Badges?
In specific launchers in Android Oreo, you're going to see a dot beside an app icon, those are called Badges. To look at the notifications without opening the app long-press on the app icon. You should now be looking at the notification, and you can always swipe right if you want to dismiss it.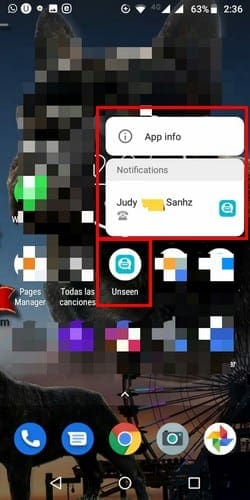 How to Only Allow Notifications from Specific Apps
You could have apps whose notifications you couldn't care less about. Or, if you have a must-have app, whose notifications you always need to see. To never miss a notification from those important apps, this is what you need to do.
If your Android device is running on Android Oreo, go to Settings > Apps and notifications > Notifications for all apps and toggle off the badge or the notification all together.
By swiping down, you can also control if that specific app will make a sound when it has a notification for you. For example, if you want to manage if Gmail makes a sound, it allows you to enable/disable a notification sound for each email you've added.
For users on Android Lollipop, go to Settings > Notifications and toggle off the app you don't want to receive notifications from.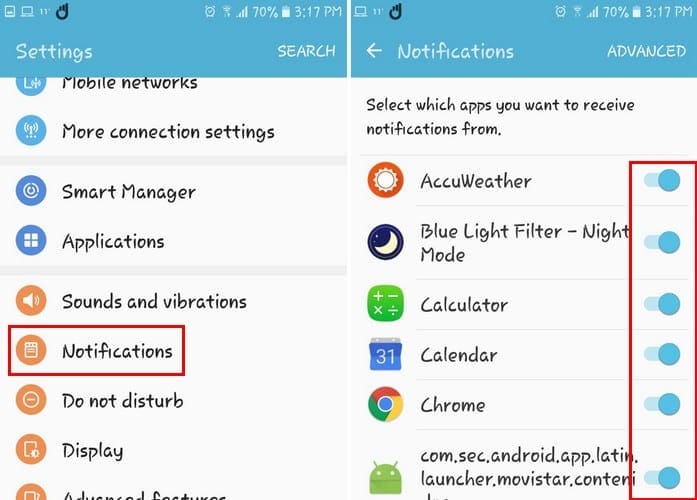 How to Change the Importance of a Notification
When you want some peace and quiet, you go ahead and enable the Do Not Disturb feature. But, some apps are just too important to put to sleep, even for a moment.
By changing the importance of the notification, you can allow the more critical notifications to get through the Do Not Disturb and mute the less important ones.
To modify the importance of a notification, go to Settings > Apps & notifications > Notifications On all apps. The last step would be to choose the app whose level of importance you want to change and tap on one of the types of notification in the General section.
For example, let's say that you chose Chrome. Under General, you will see all the kinds of notifications Chrome can send you, such as Downloads, Media, and more. If you tap on one of those options, you will now see an option called Importance.
Tap on this last option, and there will be a list of how important you want to make this specific kind of notification. You can choose from options such as Urgent, High, Medium, and Low.
Conclusion
Notifications are something you're going to have to deal with, whether you like it or not. They can inform you of important things as well as things you couldn't care less about. Either way, can't live with them, can't live without them. Do your notifications drive you crazy?