If your Chromebook's battery is running low, you won't be able to install the latest ChromeOS updates. When you check for updates, an alert will pop on the screen informing you that your battery is too low to install the updates. But sometimes, this issue can occur when if your battery is charged. Let's explore how you can quickly troubleshoot this problem.
Chromebook Won't Update Due to Low Battery
Check Your Battery
Plug in your Chromebook's charger, and check the battery level. If your battery is not fully charged, wait until it reaches 100 percent and try to install the latest updates again. Keep the charger plugged in while searching for updates.
If the issue persists, turn off your laptop and remove the battery. Wait for 10 seconds, connect the battery, turn on your machine and check for updates.
If you still can't update your laptop, launch Chrome Shell (crosh), and check the battery health.
Press the Ctrl, Alt, and T keys to open crosh.
Type battery_test 1, press Enter and check if the battery is charging.

If your battery health percentage falls below 80 percent, consider getting a new battery.
Force Restart Your Chromebook
Press and hold the Power and Refresh keys at the same time for three seconds. Your Chromebook should restart. Check if you can install the latest ChromeOS updates.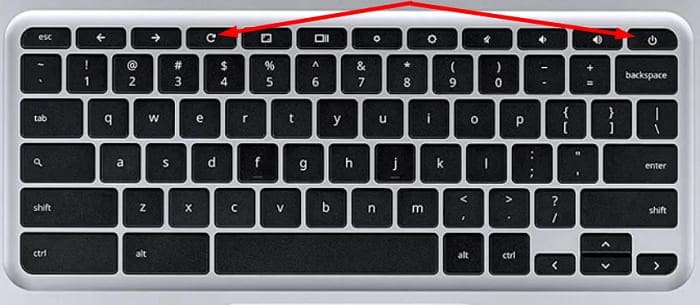 Keep in mind that pushing the Power button alone won't clear the trickle charge that powers the embedded controller (EC). As a quick reminder, the EC controls a long list of hardware, including the battery. Pressing the Power and Refresh keys helps you reinitialize the EC, and this can potentially fix a wide range of glitches.
The hardware reset process may be a bit different depending on your Chromebook model. Some models sport a special reset button, while others require unplugging the power cable, or removing the battery. For more information, go to Google's support page.
Opt Out of the Beta Channel
If you're enrolled in the Beta or Dev Channel, switch to the Stable Channel and check if you can update your device. The ChromeOS versions available in the experimental channels are often bugged. Keep in mind that switching from an experimental channel to the Stable Channel will automatically delete everything from your ChromeOS laptop. This includes downloaded files, user settings, network information, and so on.
Navigate to Settings, click on About ChromeOS, and select Additional details. Go to Channel and switch to the Stable Channel.
Additionally, switch to a different Internet connection and check if you notice any improvements. For example, if you're using mobile data, switch to a wireless connection. If the issue persists, contact your Chromebook manufacturer.
Conclusion
If your Chromebook won't update due to low battery issues, plug in the charger and check your battery health. If it's below 80 percent, the battery is faulty and you need to replace it. Additionally, force restart your laptop. If you're enrolled in an experimental channel, switch to the Stable Channel. Did these troubleshooting methods help you fix the issue? Let us know in the comments below.