If you're in the middle of a Teams video conference, but you don't want other people to hear you, you can simply use the Mute option. Unfortunately, many users fear Teams could still hear them even if they mute themselves. Let's shed some light on this confusing idea that's making so many users uncomfortable.
Can Microsoft Teams Hear You When Muted?
When your microphone is off, no one can hear you, and that includes Microsoft Teams. Once you hit the Mute option, Teams won't capture any audio input from your microphone. Rest assured, none of the meeting participants can hear you.
If you're a student and you're attending online classes, your teachers can't hear you if you mute yourself. However, if you want to be absolutely sure no one can hear you, use your microphone's physical button to mute yourself. On a side note, if another Teams user mutes you, you can't see who it was.
Why Many Teams Users Say Otherwise
Many Teams users gave real-life examples from their own experiences. They explained why they think the app is constantly listening to them, even on mute.
When your mic is muted, and you're quiet, there are no Teams notifications on the screen. However, if you start talking with the mic still off, Teams will pop an alert saying, "Your microphone is muted."
So, how does the app know you're talking if the microphone is muted? Many users are convinced these alerts prove Teams is always listening to users, at least during calls, sort of like Amazon's Alexa.
Well, that alert simply indicates Teams is detecting input from your microphone but isn't broadcasting it. Turn down your mic sensitivity to get rid of the alerts. Keep in mind that you're only disabling the meeting mic when you mute your Team's mic. Your system mic is still capturing input; that's why Teams can pop those alerts. Mute the system mic as well, and you won't get any alerts.
Right-click on the Speaker icon in the taskbar, and click on Sounds.
Click on the Recording tab.
Right-click on your mic and select Disable.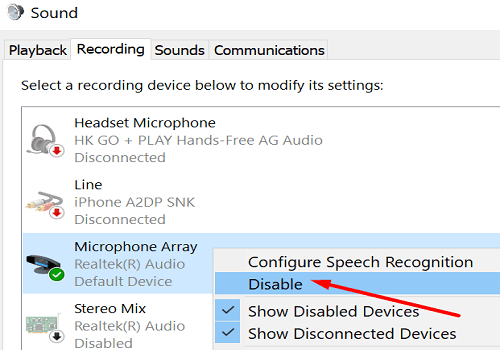 By the way, many users are also wondering if their employer can use Teams to spy on them. Most of the time, the so-called "spying" only means that your employer is recording work-related activities. And they're perfectly entitled to do so.
Conclusion
Once you mute yourself on Teams, the other meeting participants can't hear you. Keep in mind that when you mute your Team's microphone, you only mute the meeting mic. Your system mic is not off.
Have you ever experienced strange episodes when the other meeting attendees could hear you despite being on mute? Tell us more about your experience in the comments below.