Password managers are great at storing your login details for every account that you have. They offer you the ability to copy usernames and passwords to your clipboard to save you from having to type them out. This helps to further encourage the use of longer and more complex passwords as you almost never have to type them out manually.
Note: Unfortunately, this can be a little annoying on platforms that don't offer an app for your password manager such as smart TVs. You may end up having to type out your long and complex password in some scenarios.
One of the nice advantages of using the browser extension for password managers is that it can then fill forms out for you, rather than having to copy and paste them manually. This is offered in two formats, manually selecting an entry from the extension pane to have it auto-filled, and having the extension automatically enter details when the page loads. Auto-filling your credentials when the page loads is a really nice feature that saves you the effort of even having to find the right entry in your vault.
Note: Currently with Bitwarden, the automatic filling of login details when the page loads is an experimental feature. In our testing, the feature worked without issue, but your mileage may vary.
How to enable auto-fill on page load with Bitwarden
Auto-fill requires you to use the Bitwarden browser extension, so make sure you install that. You can find links to the extension for a range of browsers on Bitwarden's downloads page here. With the browser extension installed, click on the Bitwarden extension icon to open the extension pane. Next, switch to the "Settings" tab, then scroll to the bottom and click on "Options".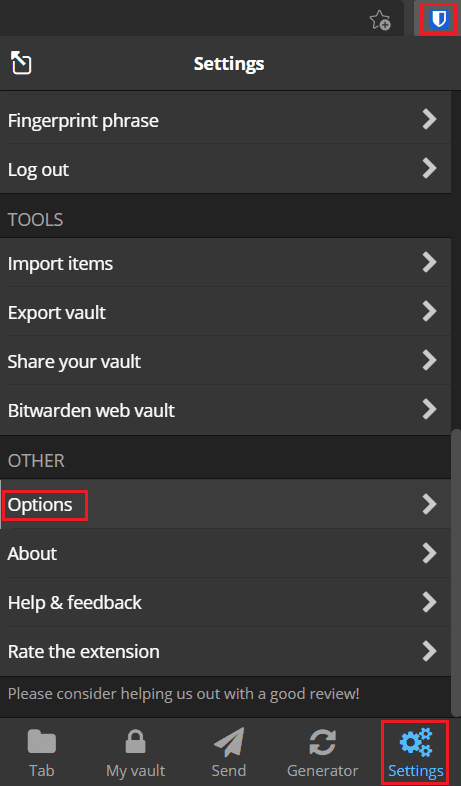 On the options page, tick the checkbox of the first item, labelled "Enable auto-fill on page load".
With auto-fill on page load enabled, Bitwarden will automatically enter usernames and passwords into detected login forms. This will only happen if the URL of the website matches the URL of the entry in your vault. If you want the feature to work, make sure that your vault entries have URLs associated with them. By following the steps in this guide, you can enable the automatic filling of credentials with the Bitwaden browser extension.