If you've ever tried to send a file larger than 300kb using the Messenger app on your Android device, you will likely get an error message similar to the following:
Message size limit reached. Sorry you cannot add this video to your message.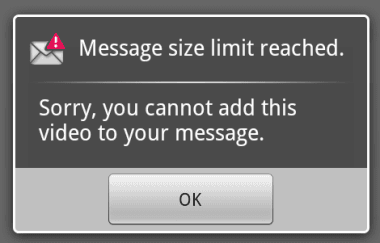 You could use email instead, but if you really want to use an MMS text message, you can use a third party messaging solution like ChompSMS. ChompSMS can be downloaded from Google Play.
Once you've downloaded and installed the app, open it and select "Menu"  > "Settings" > "MMS".
You will see an option for "Carrier Send Limit".
Set the limit to "4MB" or "Carrier has no limit".

Use ChompSMS to send your text message. If your carrier supports it, it will have no longer have a limit on file sizes for text messages.