Password protect your Microsoft Word 2010 document. You can prevent people from viewing or modifying documents unless they have a password with these steps.
1. Click the Save option in the upper-left corner (disk). If you've already saved the file, you will need to click File > Save As…
2. Click the Tools menu in the lower-right corner of the window. Select General Options…
3. Enter a Password to open or Password to modify or both. Click OK when done.
4.  Retype the password(s) when prompted. Click OK.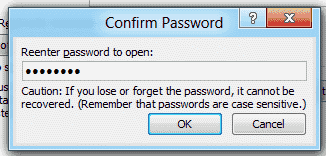 5. Click Save.