Depending on where you're traveling, you might want to be weary of the Data Roaming setting on your Samsung Galaxy S4 smartphone. You may want to turn it off if you're traveling to an area where international wireless towers may overcharge your account. You may also want Data Roaming on if you need your phone to access data outside of your wireless carriers network.
You can access the Data Roaming setting by following these steps within the phone menus:
1. From the Home screen, tap "Apps".
2. Select the "Settings" icon.
3. Select the "Connections" tab.
4. Select "More networks".
5. Choose "Mobile networks".
6. Select "Global Data Roaming Access".
7. Make one of the following selections:
"Deny data roaming access" to disable Data Roaming.
"Allow access only for this trip" to enable access just for the network the phone is currently connected to.
"Allow access for all trip" to enable Data Roaming no matter what.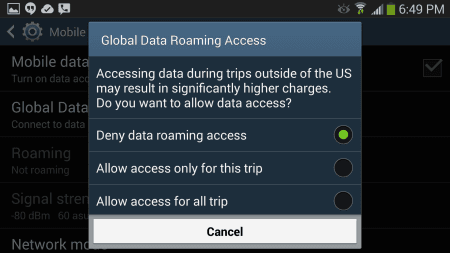 FAQ:
Why can't I access any International networks while Data Roaming is enabled?
You may not have international access enabled on your account. You can usually enable it via your account online, or by contacting your wireless provider.
How do I know when I'm roaming?
A small triangle icon or the letter "R" will appear above the signal strength indicator bars to indicate when you are roaming.
Will this setting affect phone calls?
No. The Data Roaming setting only deals with the connection to the data network. It has nothing to do with the voice network.
Will this setting affect SMS text messages?
No. However, you can set your phone to receive text messages while roaming by opening the "Messaging" app, then selecting "Menu" > "Settings", then selecting the "Roaming auto retrieve" setting.