Today, my project was getting Outlook 2013 or 2010 configured to work with my Gmail account. Here are the steps I took.
1. Login to Gmail.
2. Select Settings Gear at the top right corner of the page and select Settings.
3. Select the Forwarding and POP/IMAP tab.
4. Select Enable IMAP.
5. Select any other options as desired and click Save Changes when you are done.
Now for the steps in Microsoft Outlook.
1. Click the File.
2. At the top where it says Account Information, click the dropdown menu.
3. Select Add Account…
4. Fill in the name as you would like it to appear in your email messages, your Gmail address, and the password to your Gmail account. Click Next when you're done.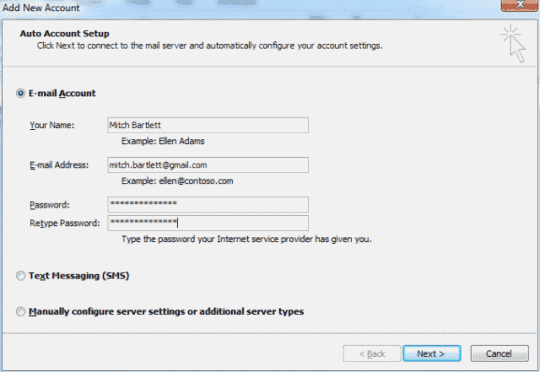 5. It will communicate with the Google Mail server. This may take a few minutes.
6. You should be successfully connected and your Gmail will now work through Outlook. Click Finish to start using it.