Delete apps from your iPhone 5 if you have apps that you no longer wish to use. You can do so by simply follwoing these steps.
There are two different ways you can delete apps from the iPhone 5 using the iOS7 operating system.
From the Home Screen
1. Navigate to the Home screen that contains the icon for the application you wish to remove.
2. Tap and hold any icon for about 2 seconds until the icons wiggle. An X will also appear next to some of the apps. Tap the X on the app you wish to uninstall.
3. A dialog appears confirming you wish to delete the app and all of its data. Select "Delete" to proceed.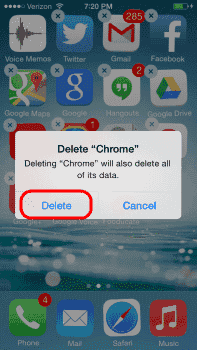 4. Perform steps 2 and 3 for any other apps you wish to delete, or simply press the Home button to save your changes.
From Settings
1. From the Home screen, select "Settings".
2. Select "General".
3. Tap "Usage".
4. The list of apps installed on your iPhone 5 appear. Select the one you wish to remove.
5. Tap "Delete app".
That's all it takes to delete the app! The data and the program is completely removed from the iPhone 5 as soon as you remove the icon using one of these methods.
FAQ
Why doesn't the X show on some of the apps?
Some apps like Notes, Calendar, and Contacts are part of the Apple iOS and cannot be removed.
Will I be able to reinstall apps that I paid for after I uninstall them?
Yes. The apps you purchased will always be available to download from your account without additional charges.