Devices that have Android 4.0 and above can be backed up from the Android SDK without root access. This process will allow you to have all of the data from your phone placed into a backup file on your computer.
1. Install the latest version of the Android SDK and Platform Tools.
2. Connect your Android device to your computer using a USB cable.
3. Open a command or terminal prompt and navigate to the platform-tools folder, located in the Android SDK folder.
4. You can type one of these commands depending the type of information you'd like to backup.
adb backup -all – System data, app data but not the apps themselves. By default saves device data to the platform-tools folder as backup.ab.
adb backup -all -f C:\filenameichoose.ab – Same as above only you can set your own location for saving the backup file.
Here are some other switches you can use with the command:
-apk – Backs up your apps.
-noapk – Does not backup apps.
-shared – Backs up data on the SD card.
-noshared – Does not backup data on the SD card.
For more information on the usage of this command, visit the XDA guide.
5. Once you type a desired command and press Enter, the following screen should appear on your device.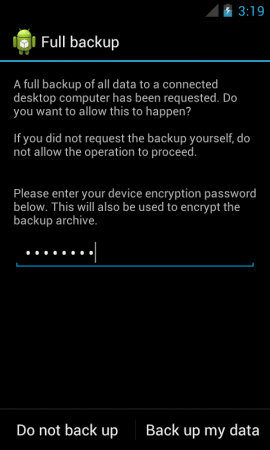 Provide a password for your backup. You will have to use this password if you have to perform a restore in the future. Tap Back up my data and the data should start transferring.
If a day shall come when you need to restore from the backup file, you can simply use the adb restore command. Example: adb restore C:\android-sdk-windows\platform-tools\backup.ab
You will then be prompted on the device for your password.