When you type an address in the address bar of Firefox, it comes up with a list of sites you've previously visited. You may want to clear this list because of privacy concerns. However, finding out how to do this proved very difficult for me.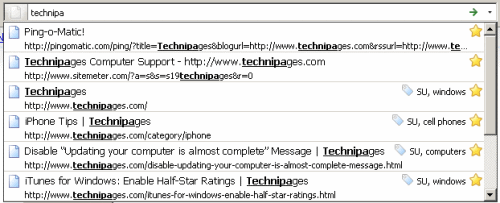 Going to Options > Privacy and selecting clear your recent history doesn't do it. Typing about:config in the address bar and changing the setting for browser.urlbar.maxRichResult to 0 worked fine. But this doesn't really clear it. It just makes the suggestions go back 0 days. If you decide to later change this setting again, it will still display the same items that were in there before.
I resorted to a tip regarding deleting the places.sqlite file from my Firefox profile folder:
Windows XP: C:\Documents and Settings\username\Application Data\ Mozilla\Firefox\Profile\profile folder
Windows 7/Vista: C:\Users\username\AppData\Roaming\Mozilla\Firefox\Profiles\profile folder
This step actually deleted the address bar history data. Still items showed up when I typed a URL. I found out they were sites that were located in my bookmarks section. But I didn't bookmark any of these! How'd they get there? Well, my StumbleUpon plug-in was saving items to my Bookmarks automatically. There are a variety of applications that automatically bookmark items as well. You may need to look into this possibility on your own system.
Deleting the bookmarks finally closed the case on this problem. So in summary,  you need to do 3 things to completely clear all history data from Firefox:
Go to Options > Privacy > clear your recent history > Browsing & Download History > Clear Now.
Delete the places.squite file.
Delete unwanted Bookmarks.
If you don't care to have the address bar history feature at all, you can just set browser.urlbar.maxRichResult to 0 using the instructions above.